Afternoon shooting leaves one dead in St. Paul's North End neighborhood
A brazen shooting in broad daylight left a man dead Friday afternoon in St. Paul's North End neighborhood.
Calls reporting that a person had been shot started pouring into the Ramsey County Emergency Communications Center at about 12:15 p.m., and officers quickly made their way to a business parking lot on 400 block of Maryland Avenue West. That's where they found a man lying on the ground suffering from gunshot wounds.
Officers immediately rendered aid until St. Paul Fire medics arrived, but there was nothing they could do to save the man's life. He was pronounced dead at the scene.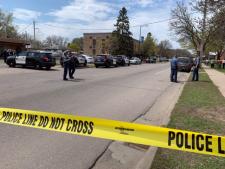 Patrol officers established a perimeter and began working to identify possible witnesses. Investigators with the police department's Homicide Unit also responded to the scene to look for evidence and interview anyone who was in the area at the time of the shooting.
Preliminary information from people who say they saw what happened indicates that the suspect sped away from the scene in a gray SUV.
The Forensic Services Unit is currently processing the scene for any evidence that could help investigators determine what led to the shooting and who is responsible.
Anyone with any information about the incident is asked to call the Saint Paul Police Department Homicide Unit at 651-266-5650.
This is an open and ongoing investigation and no further information is currently available. Any updates on the case, including the victim's identification and information about arrests, will be released on the police department's Twitter account, @sppdmn.
This is the eighth homicide of the year in the city.