What is redistricting?
According to the Minnesota Secretary of State's website, redistricting is the process of redrawing the boundaries of election districts to ensure that the people of each district are equally represented.  It is is done in the United States after the completion of Congressional reapportionment, which decides how many seats each state has in the 435 member House of Representatives. Reapportionment happens following the Decennial Census.
In Minnesota, the state legislature has constitutional responsibility for redistricting Minnesota's Congressional districts, as well as Minnesota Senate and House districts, and Metropolitan Council districts. The St. Paul Charter Commission is responsible for redistricting council wards. 
In addition, during the redistricting time period, cities and townships will establish (or reestablish) their precinct boundaries* as part of the redistricting process, as will counties that have unorganized territory. For details of dates relevant to redistricting, see the Redistricting Guide (see pages 58-60 for timelines).
*The City Council approved the new precinct lines on Wednesday, March 23.  See the meeting details, including the maps and precinct descriptions, here.  The new boundaries take effect on January 1, 2023, but are used for the 2022 elections.
Who is responsible for determining ward boundaries?
The Saint Paul Charter Commission is responsible for establishing the new ward boundaries.  The Charter Commission approved the new ward boundaries (option 6) on Wednesday, March 16.   Go here to learn more about their membership.
How can I attend a Charter Commission meeting or give my opinion regarding redistricting?
Charter Commission agendas are located here.  To leave comments for the Charter Commission, you can email them.
Upcoming Meetings:
No new Charter Commission meetings are currently scheduled
2023 Redistricting Maps (as of January 2023)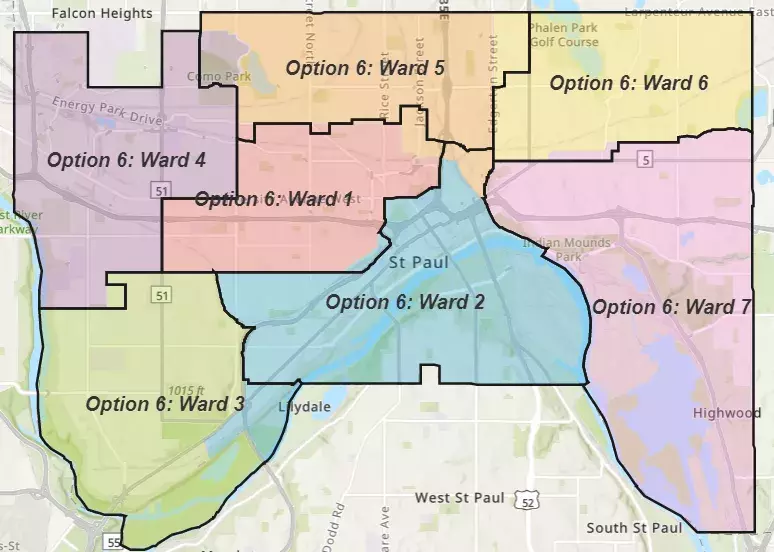 2022 Proposed New Ward Boundaries
View an interactive map of the 2022 proposed new ward boundaries.
View the Map