When the Treaty of 1837 Stripped the Dakota of Their Lands East of the Mississippi, including the Como Lake Area, Farmers, Loggers, and Land Speculators Began to Pour into the Area.
Early settlers and speculators began to claim land in the area around Como Lake in the late 1840s. It was common for land to be rapidly bought and sold at this time, and the land that is now the Classroom changed hands multiple times before Christopher Keller bought it in 1852. Keller and his wife, Anna, emigrated from Germany in 1845 with their six children. The family first settled in Wisconsin and later moved to Saint Paul.
From Prairie to Farmland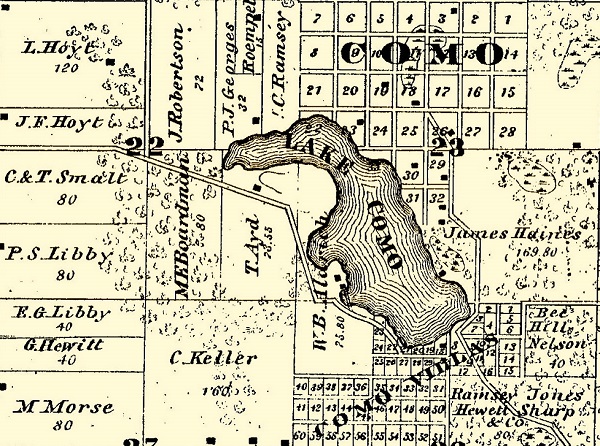 About a month before Christopher's death in January 1868, the land was split into four 40-acre sections, with ownership transferred to four of their children. The northwest 40 acres (where the Classroom is now located) went to their son John. According to 1870 population and agricultural censuses, John Keller and his wife Gertrude lived with their three children, a domestic servant, and six other children with the last name Keller. They had a total of 80 acres of land, 20 of which were woodland. They had a horse, five cows, eight oxen, five cattle, and ten swine; they raised barley, spring wheat, oats, potatoes, and corn; and made butter and hay.
From Farmland to Parkland
While the Kellers and other families in the area were farming, Henry "Broad Acres" McKenty, a high-flying real estate dealer, came to Saint Paul. He arrived in 1851 and began to buy and sell land in the area, part of a speculative boom. He laid out several plats on the east side of Como Lake and in 1857 built a road from Saint Paul to his resort community. An economic downturn that same year ruined him, but the lake became home to at least three hotels after the Civil War.
Saint Paul's city limits were creeping ever closer by the 1870s. Farming in the area changed to reflect this reality as the area became more urban than rural. All four of the Keller children sold their land in 1871 and 1872. John and Gertrude Keller sold their 40 acres to Frank E. Clark, who sold it in 1873 to the City of Saint Paul to be included in the 260-acre Como Park.
Photos
1867 Rose Township map. Image: L.G. Bennett, Atlas of Ramsey County, 1867