Learn about Natural and Cultural History as You Explore Eight Minnesota Plant Communities, All within a 17.5-Acre Site.
Welcome to the Como Woodland Outdoor Classroom! The Classroom was established in 2008 to provide a destination for students and others to study the natural world in an urban environment.

Features of the Classroom
Twenty-seven interpretive posts in the Classroom provide cultural and natural history for this 17.5-acre site within Como Regional Park. Other features in the Classroom include the Joyce Kilmer Memorial Fireplace, remnants of the Joyce Kilmer Cascade and Pool, a propagation garden, and accessible paved and gravel trails. Nearby features of Como Park include a zoo and conservatory, lake, swimming pool, and picnic grounds.
What Happened Here before the Classroom was Established?
This land was home to Native Americans since the end of the last ice age — more than 10,000 years ago. For generations, the Dakota and Ojibwe utilized natural resources from the area as they passed through. In an 1837 treaty, the land passed from the Dakota to the United States, and by the late 1840s, settlers and farmers had arrived. In 1873, it became a part of Saint Paul's Como Regional Park.
The Classroom and the adjacent areas have been used for a variety of purposes. For over 70 years, workhouse inmates toiled and passed their sentences in a building just east of here. Following the building's demolition, a public pool was built on that site. The southwest corner of the parcel has been home to a plant nursery and maintenance buildings. Playing fields were installed for recreational sports. Wooded areas became an arboretum, bird sanctuary, and now an outdoor classroom.
A Vision for Education and Restoration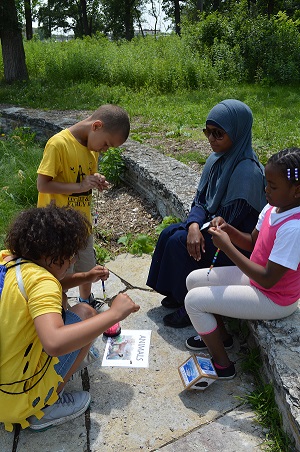 Community members, including students, were instrumental in the development of the Classroom in partnership with Saint Paul Parks and Recreation. The Como Woodland Advisory Committee community group created a vision for the space, advocated for establishment of natural areas and restoration of historical features, secured funding, and helped with hands-on habitat restoration. Thanks to generous funding from the Metropolitan Council's allotment from the Legacy Amendment's Parks and Trails Fund and the Environment and Natural Resources Trust Fund, restoration of the Joyce Kilmer Memorial Fireplace and initial instal­lation of trails and native plant communities were completed by 2014.
During the development of the Classroom, land managers identified eight native plant communities found in this region of Minnesota that could be replicated at the site. Ongoing efforts of Parks staff and community and student volunteers will be required for maintenance and the continued development of the Classroom's plant communities to provide a high-quality site for learning.
Photos:
Red-bellied woodpecker. Photo: Bob Dunlap
Youth learning about the water cycle at the Classroom. Photo: City of St. Paul