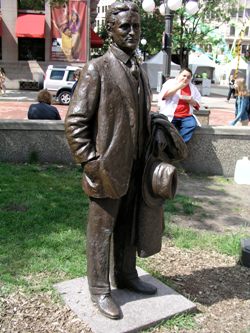 Artist Name: Michael Price 
  Media: Bronze with warm brown patina on red granite base
  Date Created: 1/1/1996
  Location: Rice Park
  History: Price created this sculpture, representing F. Scott Fitzgerald in his early thirties, to honor the renowned author on the centennial of his birthday. Price said, "I found Fitzgerald to be an honest and generous person, and I wanted to express those qualities in the work." Price equated his work with the author's—naturalism, as opposed to realism, characterizes    the work of both. "Fitzgerald said he didn't have a large idea, but he had a large perception, and so developed content from the vantage point of immediate human experience. I wanted to emulate that approach," Price explained, "making this work immediately accessible and engaging."  
 Born in 1896, on Cathedral Hill in Saint Paul, Fitzgerald and his family moved to Buffalo, New York, when he was fifteen. Upon returning to Minnesota five years later, he attended the   Saint Paul Academy. He entered Princeton University but withdrew before graduation. In 1920, he married Zelda Sayre. During this time, he supported himself by writing a few novels     and many short stories. Later, he moved to Hollywood to write scripts for Metro-Goldwyn Mayer. In 1940, Fitzgerald, age forty-four, died in Hollywood.