Hanging Baskets
Do You Want to Sponsor a Hanging Basket?

The hanging basket program for the downtown Saint Paul area has been in existence since 1998. At that time, both the Rice Park Association and Capitol City Partnership, began hanging basket programs to promote the use of Rice Park and to bring visitors to downtown Saint Paul. In 2005, these two hanging basket programs were brought together under the banner of the Blooming Saint Paul program, which had begun in 2003.
The Blooming Saint Paul Hanging Basket program has expanded to neighborhoods and just under 600 baskets annually.  Baskets are sponsored by business associations, condo associations, community organizations and individual businesses. For a full list of sponsors click here. 
Baskets are hung around Memorial Day and then taken down the third week of September. Baskets are watered every day, if weather allows, by teh Blooming Saint Paul garden crew.  The baskets are grown by Gertens.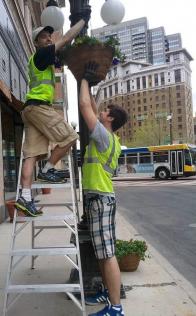 Basket Sponsorship Costs
Sponsorship costs include:
Hanging Hardware - a one-time cost. Hardware supports two baskets per light pole.
Basket and Plants - Typical basket sizes are 18" diameter and 24" diameter baskets. Baskets are available for locations with specific site requirement.
Maintenance
2015 Costs per Basket
Hanging Hardware $150
Basket and Plants
        18" diameter $ 50
        24" diameter $ 75
Maintenance $ 40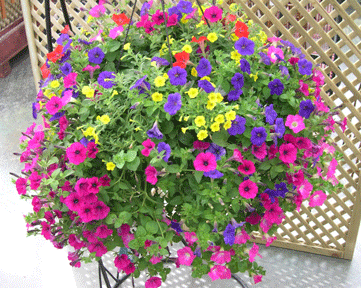 Total Annual Cost for an 18" diameter Basket
1st year with Hanging Hardware $240 - $265 (depending on size of basket)
subsequent years w/out Hardware $90 or $115
*Prices vary slightly from year-to-year.  
For more information or to sponsor hanging baskets, contact Arts and Gardens Coordinator Mark Granlund at 651-632-2454 or document.write('mark.granlund'+'@'+'ci.stpaul.mn.us')For security reasons, you must enable JavaScript to view this E-mail address.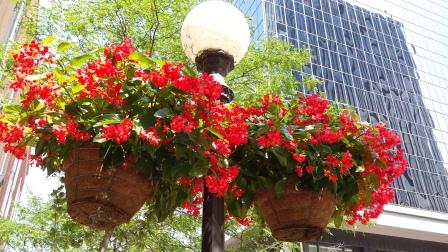 9th Street Lofts
Associated Dentists
District 6 and Rice Street Businesses
Fort Road Federation
Friends of Mears Park
Friends of Upper Landing
Friends of Wacouta Commons
Great Northern Lofts
Highland Business Association
Hinding Heating
Mancini's
Mississippi Market
Rice Park Association
Saint Paul Parks and Recreation Special Events
Selby and Snelling Business Group
The Dakota
The Essex
The Golden Rule Building
The Markham Group
The Pointe
Visit Saint Paul Foundation
Wells Fargo