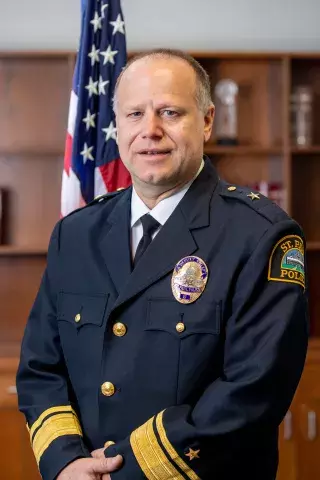 The Support Services & Administration Division is led by Deputy Chief Dan Malmgren. The Division is responsible for a variety of administrative functions, including technology initiatives, body camera and video management, crime analysis, military liaison, LGBTQIA+ liaison, and the employee assistance program.
The Division includes the following units:
Technology Development & Implementation

Video Management Unit
CCTV

Human Resources
Property & Evidence Section
Building Maintenance
Fleet
Special Operations Unit
SWAT
Mobile Field Force
Contact Deputy Chief Malmgren
Email: Dan.Malmgren@ci.stpaul.mn.us
651.266.5500
Open Information Saint Paul
Check out our Open Information Portal for public information on crime, traffic stop and related data before making a personal data request.
Do you need:
A copy of a police or accident report
Pictures from an accident
Video from accident, traffic stop or arrest
Transcript of a 911 call