Additional Garbage Services
To sign up for additional garbage services, contact your designated garbage hauler. You can find out who your hauler is by using our interactive map.
Yard Waste Collection​
Service Hold
Walk-Up Service
Bulky Item Collection Service
---

Yard Waste Collection
 
 
All haulers now offer seasonal yard waste services for an additional fee.   
For 2018:
If you had yard waste service with your previous garbage hauler, your yard waste service will automatically continue with your new hauler beginning October 1 through November 30, 2018.* You will:
Receive a payment refund from your current hauler for October and November.
Notice a pro-rated yard waste subscription fee of $35.00 on your September invoice from your new garbage hauler. This pro-rated cost covers yard waste service for the months of October and November.
Use your current hauler's yard waste cart until November 30, 2018. Yard waste carts will be removed by haulers Dec. 2018 – April 2019.
Contact your new garbage hauler to subscribe for yard waste service in 2019.
For 2019:
You can choose from two options for 2019 seasonal yard waste services (April 15 – Nov. 30*).
Subscription Service: You can set out a yard waste cart and up to 8 compostable bags each week to be collected ($120 per year).
Non-Subscription Service: You can set out a compostable bag or bundle of yard waste beside your garbage cart ($3 per bag/bundle). Call your designated hauler to request this service at least 48 hours in advance. Your hauler will tell you which day to put your compostable bag(s) or bundle(s) out for collection.
Additional Information: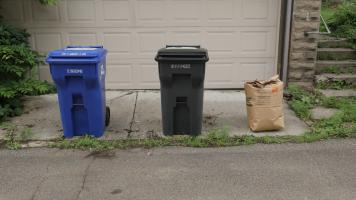 Yard waste service is not available as walk-up service.

All yard waste must be placed in a yard waste cart or a certified compostable bag.

Yard waste bags or bundles cannot exceed 40 pounds or two feet in diameter and three feet in length.

Tree stumps, dirt, or rocks are not allowed in yard waste collection.

Yard waste may be collected on a different day from your regular garbage service.
*Weather permitting
---

Service Hold
 
 
If you are going to be away from home for at least four consecutive weeks, you can suspend your garbage service during that time. Temporary absences for service holds can include, but are not limited to: extended vacations, temporary employment or education relocation, extended absence due to health reasons, or other similar situations. Service holds may not be used to avoid paying for service if a residence is occupied. All residential properties with 1-4 units must each have service and a garbage cart per unit.
To suspend garbage service, you must notify your hauler at least two weeks prior to any service hold request. You may request a service hold no more than two times within the calendar year and the total time service is on hold cannot exceed 26 weeks in the calendar year.  You will be credited for the number of weeks service was suspended on the next invoice after service is restarted. 
If your unit is going to be vacant for an extended period of time, please contact the City at our general information line, 651-266-6101, to discuss available options.
Download the Temporary Service Hold application form here.  Mail it back to your designated hauler directly.  Find your hauler's information by using our interactive map.
If a hauler denies a property owner's request for a service hold, the property owner can appeal a service hold denial to the city. Saint Paul Public Works will review the resident's request, and if it's determined the request meets the contract criteria for a service hold, the City will work with the hauler to resolve the issue. To submit a service hold denial appeal to the city, please email the details of the requested service hold, including property address, property owner contact information, designated hauler, dates requested service hold, date of when the request was submitted to hauler, and/or reason for denial to garbage@ci.stpaul.mn.us. 
---

Walk-Up Service
 
 
If you have special physical needs or limitations, all garbage haulers can provide free walk-up service for garbage collection if needed.
If you do not meet the criteria as a less able-bodied individual, you can pay for walk-up service based on the distance your cart is located from your designated alley/curb collection location.
Less than 100 feet: $25 per month, plus tax.
More than 100 feet: $50 per month, plus tax.
Walk-up service does not include bulky waste, yard waste, or any other materials not allowed in the garbage cart. All garbage placed inside of your cart for walk-up service must be bagged and weigh less than 40 pounds.
To sign up for walk-up service, download the Walk-Up Application form and send it to your designated hauler via mail or email. You can locate your hauler's mailing information by using our interactive map.
---

Bulky Item Collection Service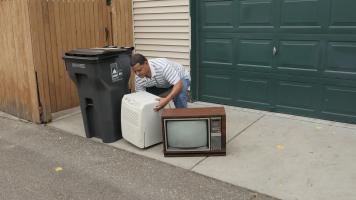 Two or three bulky items (depending on your service level​) can be collected from each property/unit each year at no additional cost starting in 2019. In 2018, each unit may have one bulky item collected at no additional cost, regardless of your service level. Additional bulky item collection is available for a fee, depending on the size of the item.
Find more information on the collection of large, oversized items, known as "bulky items."