Saint Paul has a single-sort recycling system, which means residents can put all recyclable materials into one cart. For more information download the 2020 All In Recycling Guide:
English  Somali    ​Espanol    Karen    Hmoob
---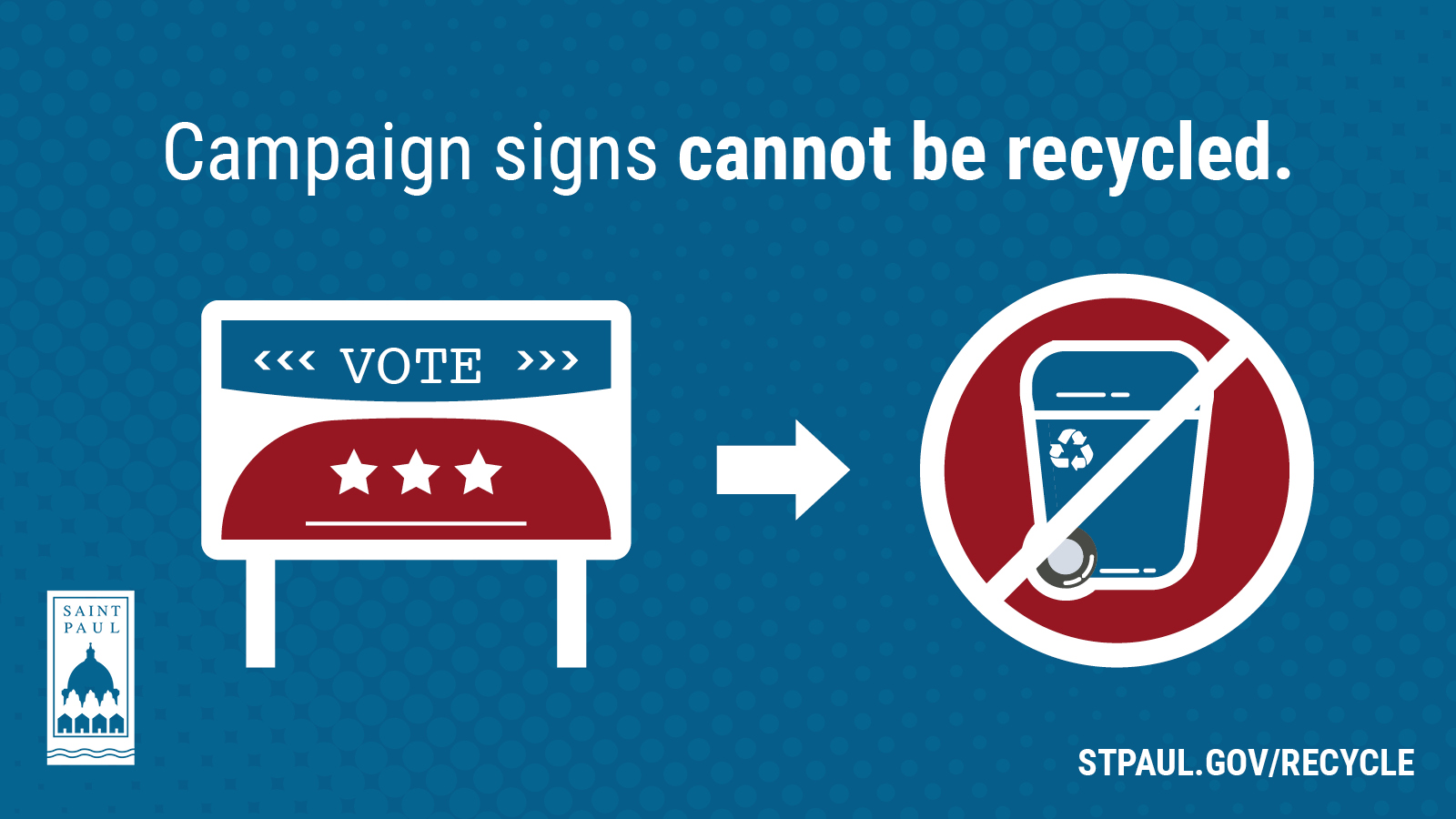 Election signs are not recyclable
All political signs must be removed one week (Nov. 10) after the general election has been held. Election signs can't be recycled in Saint Paul. These signs may be kept for future use, for an adapted use, or discarded as waste. Please check with the campaign that distributed the election sign to see if they are collecting these signs following the election.
If you have metals signs or  metal stakes, separate any metal from the plastic campaign signs and recycle with scrap metal at a metal recycler.
Accepted for Recycling
Plastic Containers

Empty, rinse, & replace caps/lids

 

Plastic Containers #1, #2, & #5

Plastic bottles & jugs

Water, soda, and juice bottles
Milk and detergent jugs
Shampoo, soap, & lotion bottles

Plastic cups & containers

Yogurt, pudding, & fruit cups
Margarine, cottage cheese, & other food tubs
Hard-plastic produce & take-out containers

Metal

Empty & rinse

 

Food & beverage cans
Aluminum foil & trays
Decorative tins & pie tins
Empty aerosol cans

Glass

Empty, rinse, & remove caps/lids

 

Food & beverage bottles & jars

Cartons

Empty, rinse, replace caps/lids

 

Soup, broth, & wine cartons
Milk cartons
Juice boxes

Paper

Keep dry & flat

 

Office & school papers
Newspapers & inserts
Magazines, mail, & phone books

Boxes

Empty & flatten

 

Cardboard
Delivery pizza boxes
Cereal, cracker, shoe, & gift boxes
Toiletry boxes
Not Accepted for Recycling
No plastic bags
No plastic containers #3, #4, #6, or #7
No containers lager than 3 gallons
No shredded paper

No tanglers (hoses, cords, or string lights)
No black plastic
No large storage bins, laundry baskets, or toys

No food or liquids
No compostable materials

No disposable or to-go containers
No styrofoam
No dishes or cookware
No egg cartons (paper or styrofoam)

No batteries or electronics
No light bulbs
No helium or fuel tanks
No scrap metal

No sharp objects/needles
No hazardous waste
No containers that held hazardous materials
For more disposal options, visit RamseyRecycles.com
---
New in 2020 
Clothes/linens and shredded paper are no longer accepted in the residential collection program. Do not place these items in your recycling cart. 
Clothes and Linens:
For donation opportunities, visit the Ramsey County Reuse and Donation page.
Shredded Paper:
Recycle Smart. Shredded paper is no longer accepted in the residential recycling program. When placed in your recycling cart, shredded paper most often does not get recycled due to its very small size and can be a contaminant for other materials in the recycling process. Keep your paper shredding to a minimum. Paper for shredding is typically accepted at our Citywide Drop off Events. You can also refer to the Ramsey County AtoZ Recycling and Disposal Guide for disposal options.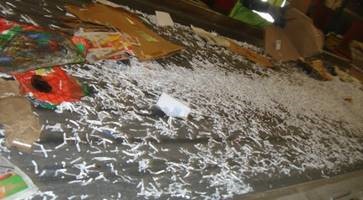 Updated: October 27, 2020