Street Design and Construction
The Street Design and Construction Division is responsible for the design, management, and inspection of all city street construction projects.​​
Saint Paul's Residential Street Construction Program
Each year the City of Saint Paul reconstructs 10-15 miles of residential streets. We rebuild the street to improve the street paving, curbs and gutters, sidewalks, landscaping, and lighting. Also, public and private utilities upgrade their infrastructure including:
Saint Paul Regional Water Services replacing many lead connections and some water mains
Public Works replacing some sanitary sewers
Xcel Energy upgrading its gas facilities
Storm water management techniques incorporated into the street infrastructure
This work being completed together helps reduce construction costs and disruptions for residents.
During construction we try to limit the inconvenience for residents - but you can still expect dust, noise, traffic delays, workers, and heavy equipment in your neighborhood.
Residential Street Construction Timeline
Every construction project is unique, but here is a sample timeline for what you can expect. Paving and utility work typically takes 14 weeks, but may take longer due to weather or complications. These projects are completed between spring and fall each year.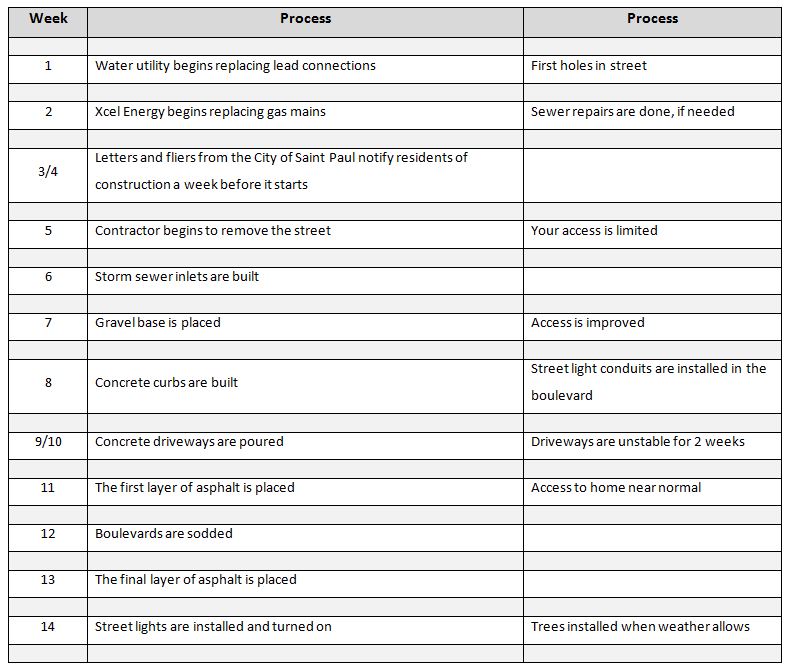 Other Information:
Alley FAQs​
Rain Garden Guidance