Norton Street Water Main Replacement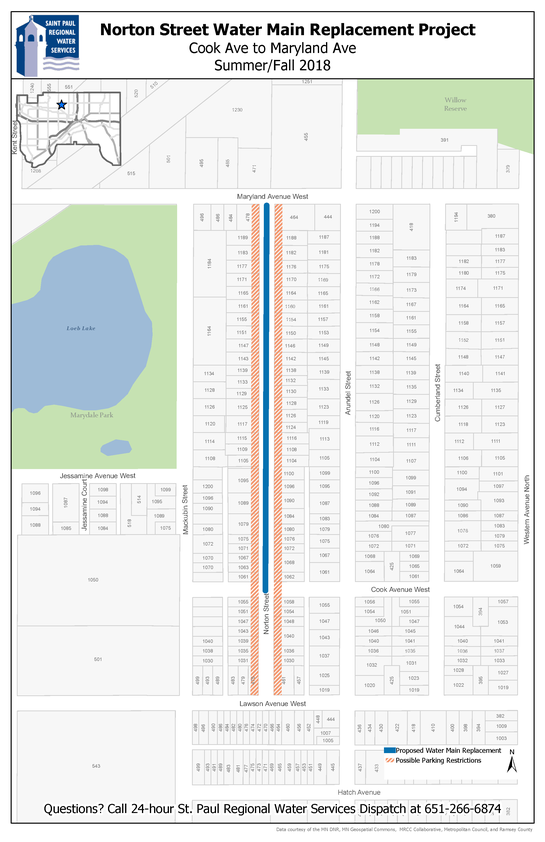 SPRWS will be hiring a contractor to replace the water main below Norton Street during the summer of 2019.  The existing water main was installed in 1925.  Replacing this water main will help SPRWS continue to provide consistent, reliable service to residents of Norton Street and the surrounding area.
Project Scope:
Replace approximately 1,300 feet of 6" water main with new, 8" main
Replace valves and hydrants
Restore street pavement, curb, and sidewalk as needed
Project Updates
Monday, May 20, 2019
Project Schedule
SPRWS crews have installed temporary water mains to provide residents with water throughout the project.
Residents will be notified in advance if any temporary water shutoffs will be necessary. These notifications are typically provided via door hangers placed on the front door of each residence.
SPRWS crews will be working with the contractor to tie in temporary water mains beginning on 5/20/2019
Traffic and parking restrictions should be in full effect beginning the week of 5/20/2019
Once temporary water mains are connected, replacement of the existing water main will begin.
Tuesday, May 7, 2019
Contractor Selected
Danner Inc. has been selected as the Contractor for this water main replacement project.
Project Schedule
SPRWS crews expect to begin laying out temporary water mains within the next week. Impact on residents during this process should be minimal
The Contractor is in the process of creating a traffic control plan for project activities. Details of the traffic control plan will be shared when they are available.
SPRWS staff expects that Xcel gas may follow our project by replacing some gas mains along Norton Street. Following the completion of all SPRWS work and Xcel work, the roadway will be fully milled and overlaid, providing a fresh, smooth paved surface for the full width of Norton Street.
Further details regarding scheduling will be shared as SPRWS continues discussion and planning with the Contractor