Robert Piram Regional Trail
(Formerly known as Harriet Island to South St. Paul Regional Trail)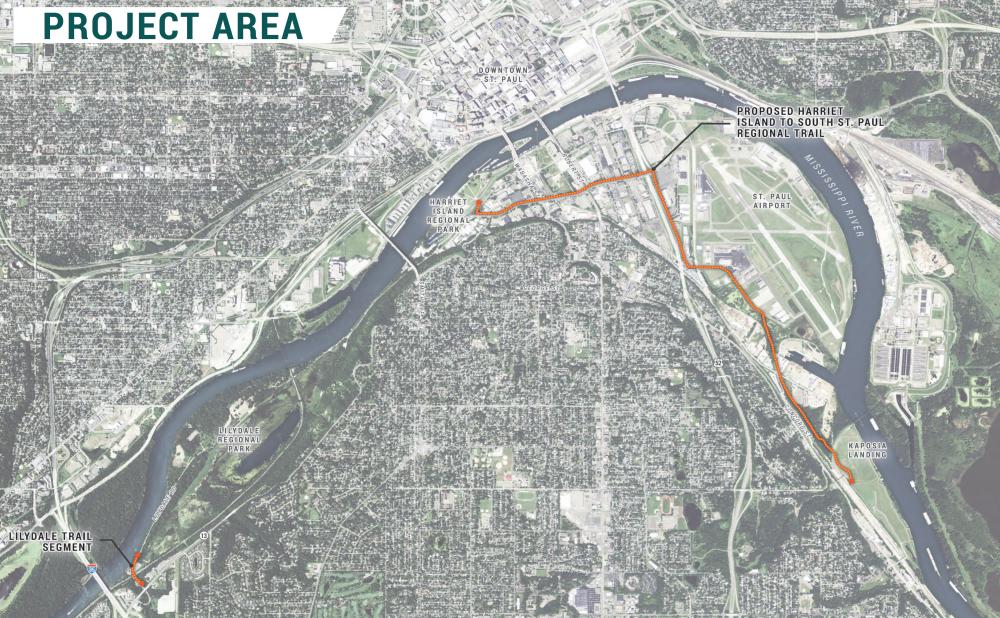 Saint Paul and Dakota County have teamed up to plan for the creation of a new bicycle and pedestrian trail that will fill several important gaps in the region's trail system. The new trail segment will connect the Harriet Island Regional Park and its trail system to Kaposia Landing Park in South St. Paul. The project will also make improvements to the connection between the Lilydale Park trail and the Big Rivers Trail in Dakota County. This trail connection project is part of the Great River Passage Master Plan where it was reviewed at multiple community input sessions. The trail alignment was selected, in part, to minimize the need for land acquisition to create the trail. The overall plans for the trail are included in the Harriet Island to South St. Paul Regional Trail Master Plan (see links below for additional graphics and project resources). Project One-Page Summary
The City of Saint Paul and Dakota County were jointly awarded a Federal Surface Transportation Program (STP) grant that will provide for trail construction following preliminary engineering and final design. The design and engineering will focus on providing an enjoyable, safe connection to other parts of the City and its southern neighbor South St. Paul. The trail development will include landscaping, wayfinding signage, cultural/historical interpretive elements, and pedestrian and boardwalk bridges.  It is currently anticipated that the trail will begin construction in 2019.
The completed trail is expected to become part of the Mississippi River Trail, a multi-state bike trail that begins at the Mississippi River's headwaters at Itasca State Park and extends, adjacent to the river, all the way to the Gulf of Mexico.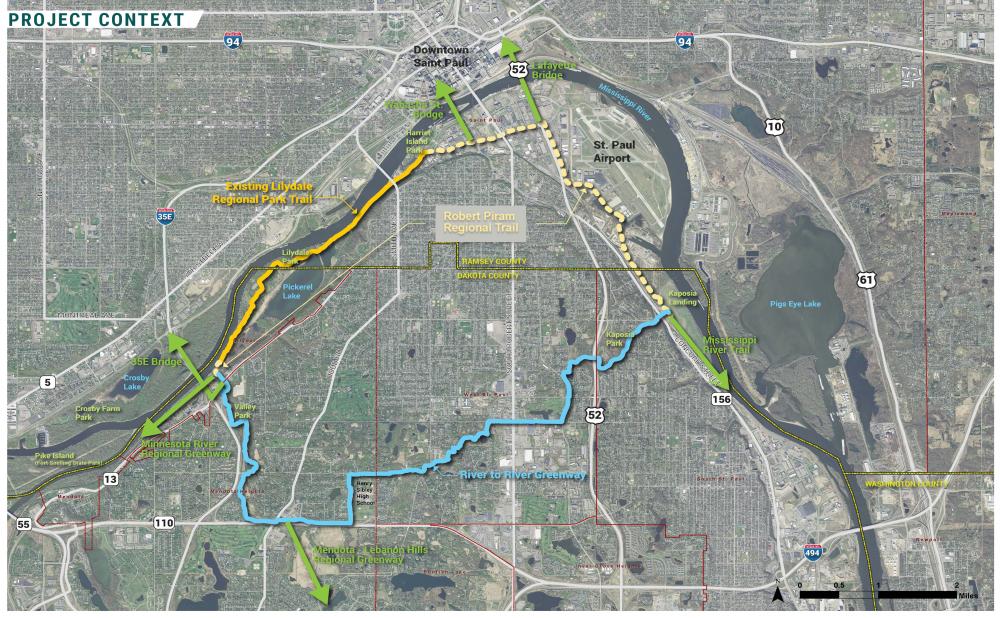 Additional community input, suggestions and comments will be gathered at open house events, as well as through other media, mailings and the usual district council participation process.  Please see below for links to project graphics and resources.
Public Meetings
2019 Project Update Meetings
Project overview and detail of trail alignment, amenities, and features.  Presentation is located HERE.
June 11, 2019 - West Side Community Organization: West Side Voices Forum
April 22, 2019 - City of Saint Paul Transportation Committee
Public Open House Community Review and Comment on the Trail Design Development.
2016 PUBLIC MEETING MATERIALS
Informational Handout
Project Summary Boards
Typical Trail Sections
Precedent Images
Regional Trail Context Map
Project Resources
Robert Piram Regional Trail Master Plan Amendment - 2017
Harriet Is. to South St. Paul Master Plan
Council Resolution RES 16-3
Project Memorandum
Project Updates 
October 17, 2019
Crews are continuing to clear brush and trees along the trail alignment for segments D & E in preparation of pedestrian and boardwalk bridge construction this winter.  In Lilydale - storm sewer, utility, and grading/aggregate base work is moving along.  Photos of construction can be found here: Trail Segments D/E & Trail Segment A.
October 10, 2019
Construction of the Robert Piram Regional Trail is underway!!  Crews broke ground in mid-September, 2019 and are expected to continue construction work through Fall 2020.  Construction of Trail Segment A is currently in progress, located in Lilydale.  This segment will connect the existing Big Rivers Trail to the trail in Lilydale Regional Park.  Please note the trail from the Big Rivers Trail parking lot into Lilydale Regional Park is closed during construction.  There has also been some tree and brush clearing underway in South Saint Paul in preparation for Trail Segments D & E and the pedestrian bridge which will connect to Kaposia Landing.  Construction photos can be found HERE. 
May, 2019
Both City and Dakota County have continued work with project partners and stakeholders to secure necessary right-of-way for the trail project.  It is anticipated that the project will go out for bid late spring/early summer 2019.
August, 2018
The project reached a milestone this summer in completion of final construction plans for the trail.  The City of St. Paul and Dakota County will continue to work with project partners and stakeholders this fall to complete specifications and have the project be in a position to begin construction Spring of 2019. Plans and specifications will be available following a bidding process when the project is advertised for construction. Project One-Page Update
March, 2018
Trail design and engineering has continued to progress, with the project approaching 95% construction documents.  The City of St. Paul and Dakota County continue to work with project partners to advance design in an effort to keep plans for the trail moving forward.  Working towards a common goal of providing this important regional trail connection, 100% plans are anticipated to be complete summer 2018.
September 1, 2016
Trail design and engineering has been ongoing and many of the major trail obstacles or issues have been either resolved or the options have been narrowed to a smaller set. Updated information on the proposed trail alignment and other proposed trail features will be displayed in an exhibit at the Saint Paul Classic Bike Tour on Sunday September 11th.  Once again, the design team is inviting public review and comments on the progress of the trail design. We will be collecting feedback and comments on the trail including opinions or suggestions on landscaping, site furnishings, trail wayfinding locations, interpretive elements, opportunities for public art, safety concerns and the overall trail experience. Please stop by and see the design progress. Look for the City of Saint Paul Parks Table at the start of the tour. 
April 28, 2016
The Public Open House was held on April  26th at the Wellstone Center. Public attendance was very low but a few comments and concerns were collected and will be used to continue the preliminary engineering. Comments and concerns can be submitted to the Project Manager, Don Varney.
On April 17 the Saint Paul City Council and Mayor Chris Coleman approved Council Resolution RES 16-3, officially re-naming the Harriet Island to South St. Paul Region Trail to the Robert Piram Regional Trail to honor Robert Piram for his many years of service to the City of Saint Paul including 26 years as the Superintendent of Parks.
April 14, 2016
The Public Open House has been Re-scheduled for Tuesday, April 26  5:00-7:00 pm. Wellstone Center 179 Robie St. E.  St Paul, MN 55107
April 1, 2016
The Public Open House (originally scheduled for April 14th) has been postponed and will be Re-scheduled. The new date for the Open House will be posted on this Web page and additional public meeting notice will be provided by other means.  
February, 2016
Preliminary engineering is underway and calls upon the expertise of a multi-disciplinary design team lead by TKDA and including Hoisington Koegler Group, HTPO land surveyors, Braun Intertec, geotechnical engineering, 106 Group-site-historic and interpretive opportunities and Seitu Jones-public artist. Detailed site information has been gathered and incorporated into a project base map that will be used to develop the precise alignment and details of the trail. The first public review / open house has been rescheduled for April 26th at the Wellstone Center ( see 'Meetings') where the public can participate in an open house design review and comment on the features of the proposed trail design.