Groveland S'more Fun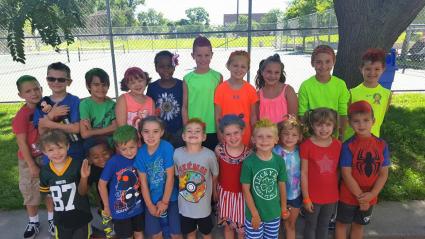 S'more Fun is a recreation childcare program for school-aged children in Kindergarten through 5th grade. We offer recreational, cultural, social and educational activities. Our goal is for children to pursue their own interests, develop friendships, gain confidence and build independence in a safe, comfortable, trusting and FUN atmosphere.
Before and After School S'more Fun
Before School
After School
Non-School Day
7:15 a.m.–6 p.m.
$35/day (plus additional field trip fees)
| | | |
| --- | --- | --- |
| Activities |   |   |
| | | |
| | | |
| | | |
| | | |
| |   |   |
Daily Schedule
Schedule and times may vary due to seasonal weather influences and other special circumstance.
Before School
7:15 a.m. Open/Free Choice/Homework help
8:15 a.m. Free Choice/Homework Help/Gym Time/Outside Activities/Computer Time
9:15 a.m. Dismiss to Breakfast/Class
After School
4:00 p.m. Snack Time in Cafeteria
4:15 p.m. Group Time (projects, games, computers, homework, free choice, gym, outside)
5:00 p.m. Free Choice
6:00 p.m. Dismiss to Parents/Guardians/Home
Pre-K Plus
S'more Fun offers care from 9:15am-1:15pm for children attending the afternoon session of Pre-K at Groveland. We will work with the Pre-K teacher to create fun, creative activities that will complement what they are working on in the classroom. Your child may also attend the before school program from 7:15-9:15am (if needed) until the start of the Pre-K day. Minimum enrollment must be met. If you are in need of the after school component, please contact Julie Anderson at 651-695-3715 or via email Julie.anderson@ci.stpaul.mn.us.
Activities include:
Meeting time, free choice time, work time, rest/quiet time, story, calendar, journaling, afternoon snack, games, art projects, gym time/outside time and much more!  A detailed schedule will be provided to families before the start of the school year.
Summer S'more Fun
Contact Julie at julie.anderson@ci.stpaul.mn.us or 651.695.3715 to register.
Ages: 6-11
Dates:
Hours: 7:15am-6:00pm
Cost:
Full time (M-F,8 week minimum) $33/day
Part Time $35/day
Field trips are not included in the daily rate
Daily Activities
Arts and crafts, walking to local parks and playgrounds, theme days, weekly visit from the SPPL Bookmobile, gym and outdoor time.  Snack is provided in the morning and afternoon.
Field Trips
TBD
Waterpark Field Trips
TBD
Financial Assistance
Financial Assistance is available to qualifying families through the child care sliding program. For more information, contact:
Ramsey County Think Small
Phone: 651-641-0305
info@thinksmall.org