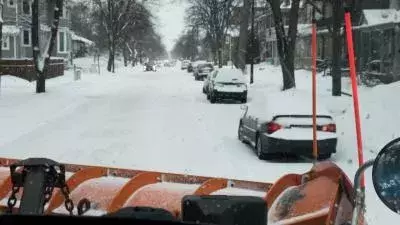 Plowing our Saint Paul Streets
During a Snow Emergency, Saint Paul Public Works uses up to 80 pieces of equipment in two phases (Night and Day Plow Routes) to plow more than 1,800 lane miles - the entire city - in approximately 24 hours. Our first focus with snow plowing is always to provide safe and passable main streets, including high traffic and public transit areas throughout Saint Paul. We often begin pre-treating, plowing and salting main streets before and during any snow event that could have accumulation on the streets.
During non-snow emergencies, our efforts are concentrated on main roads, and high volume traffic areas. It is not the city's standard practice to plow and or salt residential streets during non-snow emergency snow events due to costs, time constraints, and environmental concerns. The city does not plow alleys.
When a Snow Emergency is declared, it begins at 9 p.m. and lasts 96 hours. Special parking rules go into effect. We encourage everyone to sign up for Snow Emergency emails and text alerts.
We plow residential streets only when a Snow Emergency goes into effect - starting at 9 p.m. the day it is declared. One of the reasons residential streets are only plowed during a Snow Emergency is because plowing is only effective when everyone moves their vehicles off the streets for the plows to get the full width of the road, and we understand this is an inconvenience for residents and businesses who need enough time and notice (typically at least 6 hours) to move vehicles off the streets. We strive to be good stewards of the City's resources and tax dollars. That's why we make sure much of the snow has fallen before we declare a Snow Emergency.