Metered Parking
Upcoming Event Rate Dates
July 29 (XCEL Energy Center)
August 2 (CHS Field)
August 4 (CHS Field)
August 5 (CHS Field)
August 6 (CHS Field)
August 9 (XCEL Energy Center & CHS Field)
August 11 (CHS Field)
August 12 (CHS Field)
August 13 (CHS Field)
August 22 (CHS Field)
August 24 (CHS Field)
August 30 (CHS Field)
August 31 (CHS Field)
September 1 (CHS Field)
September 2 (CHS Field)
September 3 (CHS Field)
*Daytime event
Parking meters are used in Downtown Saint Paul and other areas of the City where high parking demand requires regulating the use of on-street parking spaces. In these locations, parking meters generally facilitate the use of on-street parking spaces by short term parkers such as shoppers or someone coming into the area for an appointment. Long term parkers are encouraged to use parking lots, parking structures or more remote locations. Meter fees are used to help defray the cost of administration and parking enforcement. 
Parking Meter Reimbursement Form
Information on metered parking locations, rates, time limits, and event zones is available on our Metered Parking GIS Map.
Parking meters in the City of Saint Paul are enforced Monday through Saturday, except for the following holidays:
New Year's Day (January 1 and federally observed holiday)
Martin Luther King Day
Presidents' Day
Memorial Day
Independence Day (July 4 and federally observed holiday)
Labor Day
Veterans Day (November 11 and federally observed holiday)
Thanksgiving Day
Day Following Thanksgiving
Christmas Day (December 25 and federally observed holiday)
Maps showing meter locations, rates, and time limits can be found here in pdf format:
Looking for instructions on using our pay stations? Watch the video below for a step-by-step explanation and for information about their implementation.
Disability Parking
City code stipulates that "[a] person exercising their disabled parking privileges may park with a valid identifying disability permit or plate City of Saint Paul parking meter without the obligation to pay but must follow the time restrictions officially posted for the physically disabled." In layman's terms, a person parking with a valid disability certificate or plate typically can park for 4 hours at a City of Saint Paul parking meter without payment. This is not the case at meters with 30 minute time limits, where everyone is subject to the 30 minute maximum.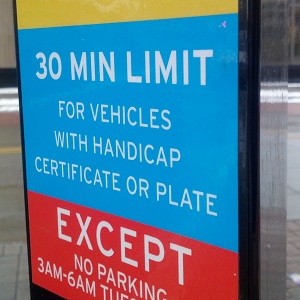 Check the single-space meter or space marker for the space you wish to park in for the posted disability time limit. If you reach the maximum time limit at a space, be it 4 hours or 30 minutes, you are not allowed to re-park within 2 blocks of your original space.
A vehicle that remains parked beyond the time limit or is re-parked within 2 blocks is subject to citation. Those who live or work downtown are encouraged to use ramps or lots when parking downtown for extended periods.
Metered parking in downtown Saint Paul is intended to encourage short-term use. Short-term parking is important to allow for quick stops to conduct business, get a quick meal, or shop at a local store without having to use an off-street ramp or lot.
For long-term parkers with disabilities, reduced monthly rates are available at City of Saint Paul owned parking ramps. Call 651-266-6200 for details. If a person has severely impaired mobility and they need to park on-street near their place of employment they may apply for a Special Needs Permit at half the cost of the monthly rate at the nearest ramp, lot or garage. For more information visit stpaul.gov/parking or call 651-266-6200.
Links