Fire & Paramedics
The Saint Paul Fire Department protects the life and property of the people of Saint Paul.
Our dedicated firefighters, public educators, support staff and maintenance personnel form an effective team that is proud to serve the residents of our Capital City.
There are 15 fire stations throughout the City. The firefighters and medics work 24-hour shifts to keep the City safe and make Saint Paul, America's most livable city.
Follow the Saint Paul Fire Department on Facebook, Twitter, and Nextdoor.com 
Female Fire and EMS Forum:
The City of Saint Paul is hosting a Female Fire and EMS Forum on August 10, 2016 from 6:00 pm-8:30 pm at the Saint Paul Fire Training Center located at 1683 Energy Park Drive in Saint Paul. If you are interested in a career in the fire service, please come and have all your questions answered. We will be providing information about the hiring process, career opportunities, job information, working conditions, and providing tours of apparatus and equipment. This is an introductory forum and will be followed up by a hands-on event on Saturday, October 8, 2016. No need to RSVP just show up!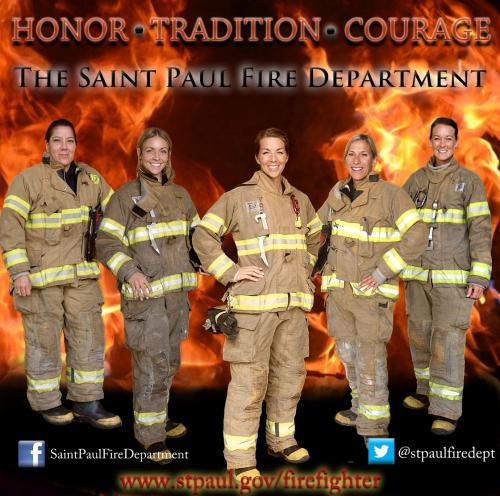 Please join us on Monday, August 29th as we celebrate the Summer 2016 graduates of the Saint Paul EMS Academy!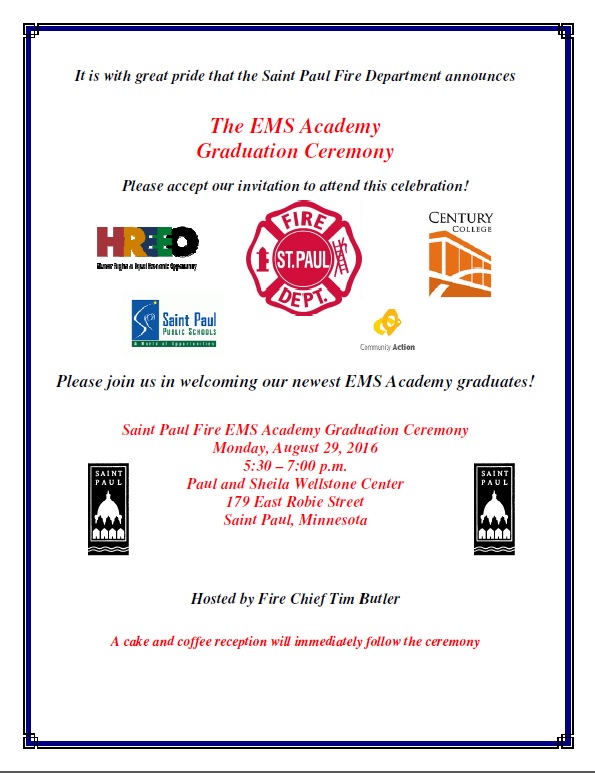 Sign up for FREE working SMOKE ALARMS, Carbon Monoxide alarms, and StoveTop FireStops if you are a Saint Paul homeowner!
2016 Firefighter Academy Graduation
In a ceremony held on May 13 at the Saint Paul College, nineteen new firefighters graduated from the Firefighter Academy.
LEARN HOW WORKING SMOKE ALARMS CAN SAVE YOUR LIFE!
See why you should install residential fire sprinklers in your new home: http://firesprinklersmn.com/
Fire​fighter Recruitment Information is available.