Highland Bridge Parks (Ford Site)
Project Overview
The former "Ford Site" is now branded as "Highland Bridge" and includes 122 acres of land along the Mississippi River and was the former home of Ford Motor Companies' Twin Cities Assembly Plant.  Within those 122 acres, four city-owned parks comprising approximately 9 acres, have been platted with design underway. In addition to the four city owned parks, there are also privately owned spaces that will be available for public use.
Community Engagement
The community engagement for open space on the site began many years ago in anticipation of the revitalization of the closed Ford Motor Company property. The culmination of that planning work is reflected in the 2017 adopted City of Saint Paul Ford Site Zoning and Public Realm Master Plan, which calls for a vibrant mixed-use urban village to be integrated into the existing community. The Ford Site Master Plan incorporated many ideas from a decade of community engagement focused on how to bring the site to life.
The specific design of the parks is currently underway with the Ryan Companies team leading the community engagement process. Ryan has attended community events and provided a survey to gage the community's interest and needs for the open space on site.  Results of the survey work are included in the first PAC meeting presentation.
Parks Advisory Committee (PAC) meets virtually at significant points in the design process, from initial schematic design through design development. The original engagement plan included 3 meetings of the PAC, however we have determined that more meetings will be necessary to get the feedback and input needed for all four parks. 
The PAC is made up of representatives from several groups and below is a list of the individuals you can reach out to with questions and input you may have.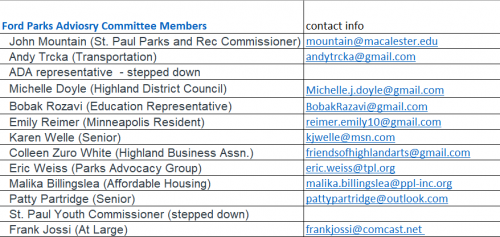 Community Engagement Meetings
Parks Advisory Committee Meeting #1 (4/4/2020) - Meeting Presentation (pdf)
PAC 1 Homework Results (pdf) – PAC members were asked to provide feedback on programming and placement using a virtual whiteboard exercise.
Parks Advisory Committee Meeting #2 (6/4/2020) - Meeting 2 Presentation (pdf) 
PAC 2 Homework Results (pdf) – PAC members were assigned a small group and each group discussed the parks and planning and recorded their thoughts.
Parks Advisory Committee Meeting #3 (8/4/2020) - Meeting 3 Presentation (pdf)
PAC 3 Chat (pdf)