Planting Trees in Saint Paul
Boulevard Tree Planting
How, when, and where we plant Boulevard Trees
Forestry utilizes contractors to plant trees in boulevards during the spring (April - June) and fall (October - November). Trees are planted during these seasons because the cool, moist weather gives newly planted trees the best chance at establishing in the boulevard. Boulevard tree planting locations are determined based on planting criteria that can be found on pages 83 and 84 of the Street and Park Tree Master Plan. 
Planting Rotation
Due to budget constraints, Forestry is not able to plant all boulevards throughout the city on an annual basis. Instead, Forestry annually plants boulevards on rotation by planning district. As Forestry plants trees on rotation by planning district, losing a tree one year does not mean that the tree will be replaced the following year. The planting list for a given year is finalized by November 1st for the year prior. So, if your tree is removed in mid November of December of a given year, it may not be replanted until the next rotation. For example, trees planted in 2018 will be finalized by November 1, 2017. Below is a map of the boulevard tree planting rotation: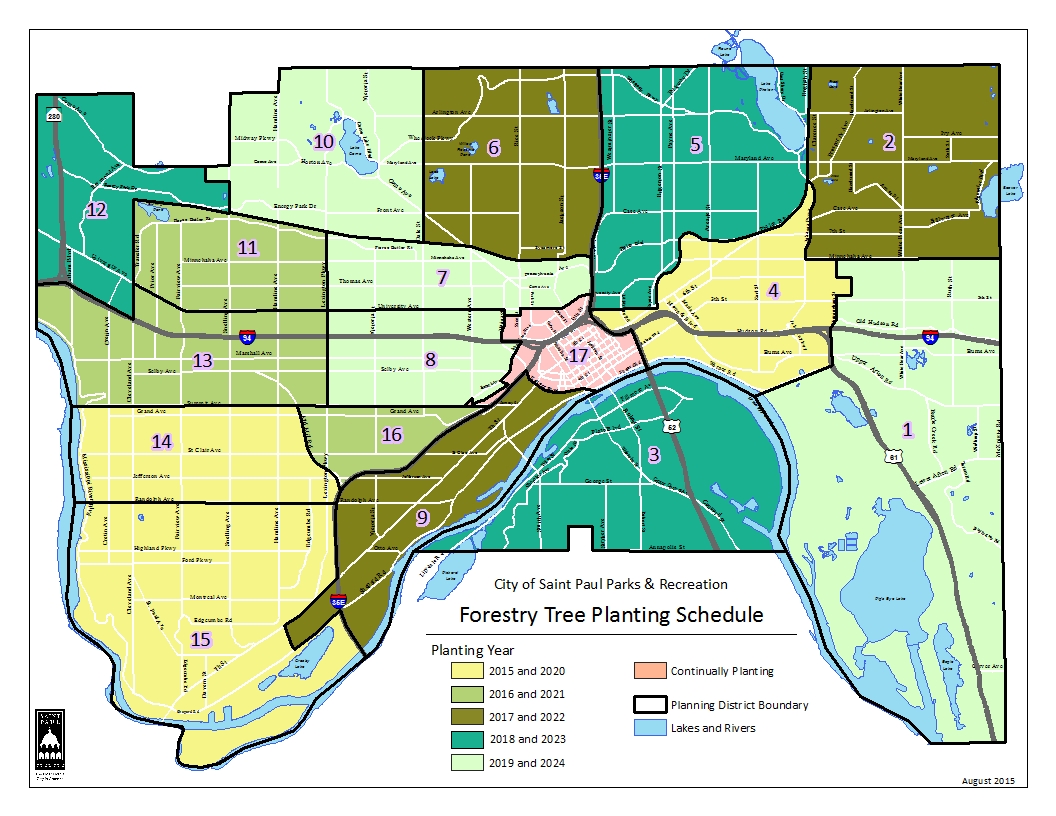 Requesting to have a Boulevard Tree Planted
Property owners may contact Forestry and request that a tree be planted on the boulevard adjacent to their property.
Forestry staff will inspect the boulevard to determine whether or not the planting spot meets the minimum planting criteria, which can be found on pages 83 and 84 of the Street & Park Tree Master Plan.
If there is available funding and the minimum planting criteria are met, Forestry will grant the boulevard tree planting request unless other unusual circumstances exist.
Forestry Planting Process
Residents will be notified that a tree will be planted in the boulevard up to a month before the tree is planted by leaving a door hanger that states what type of tree will be planted and gives general care instructions.
A white "T" will be painted on the curb to mark the approximate planting location and underground utilities will be marked.
Shortly before planting, a white "X" will be painted on the boulevard to signify the exact planting location of the tree.
A city-hired contractor will plant, water and mulch the new tree.
We urge residents to water and care for new trees. Gator bags are available for free to residents with newly planted boulevard trees. Contact Forestry if you would like to have a gator bag put on your newly planted tree.
Planting a Tree on the Boulevard Adjacent to Your Property
Property owners are encouraged to plant trees to help beautify Saint Paul. Please follow these steps if you would like to plant a tree in the boulevard:
Apply for a free permit and submit the permit to Forestry via email, fax, or mail.
Consult Forestry: Forestry staff will review the permit, assess the boulevard, and contact you with the planting location and tree species selection information. Requests will be denied if the boulevard does not meet the minimum planting criteria found on pages 83 and 84 of the Street & Park Tree Master Plan.
Locate Utilities before Planting: Contact Gopher State One Call before you dig so that underground utilities can be located. There is no cost for this service.
If you plant a tree on the boulevard without an approved permit and Forestry determines that the tree does not meet location and/or species criteria established in the Street and Park Tree Master Plan, Forestry will require that the tree be removed or replanted to a suitable location. If the tree is not removed or replanted by the deadline given, Forestry will either remove or replant the tree in a suitable boulevard location.
Private Property Planting
A permit is not required for planting trees on private property. However property owners should consider the following when planting a new tree: planting location, tree type, size at maturity, cold hardiness, maintenance requirements, etc. Remember to have utilities located by Gopher State One Call before you dig.
Helpful Planting Information:
Consult the United States Forest Service's Tree Owner's Manual for all the information on selecting, planting, and maintaining a tree.
Minnesota Department of Natural Resources Tree Planting and Care webpage.