Planning Commission
About the Planning Commission
The Planning Commission is a 21-member advisory body made up of citizen volunteers appointed by the Mayor and approved by the City Council. The Commission and its sub-committees (Zoning Committee, Comprehensive and Neighborhood Planning Committee, and Transportation Committee) take on municipal planning issues as required by law. It reviews and makes recommendations on comprehensive planning and zoning issues, studies, and amendments.  The Planning Commission also holds public hearings where members of the public can be heard.
Note: The Neighborhood Planning Committee was merged with the Comprehensive Planning Committee in 2018. Archives of meeting agendas and materials can be found here.
Members
Aquanetta Anderson
Cedrick Baker (Second Vice Chair)
Anne DeJoy 
Daniel Edgerton (Zoning Committee Chair) 
Kristine Grill
Nathaniel Hood 
Taqee Khaled
Chong Lee 
William Lindeke (Transportation Committee Chair)
Kathy Mouacheupao (Comprehensive and Neighborhood Planning Committee Chair)
Christopher Ochs
Trevor Oliver 
Adrian Perryman
Luis Rangel Morales (First Vice Chair)
Betsy Reveal (Chair)
Jeff Risberg
Antonio Rodriguez
Wendy Underwood (Communications-Nominations Committee Chair)
Lue Vang (Secretary)
Please click here for contact information and biographies for the Planning Commissioners.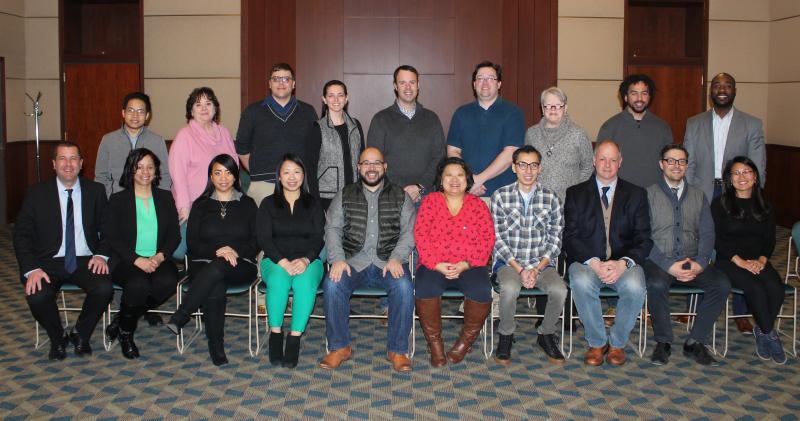 First row (left to right) – *Kris Fredson, Aquanetta Anderson,  Kathy Mouacheupao, Chong Lee, Taqee Khalid, *Terri Thao, Luis Rangel Morales, Christopher Ochs, *Eric Wojchik, *Shannon Eckman​
Second row (left to right) – Lue Vang, Anne DeJoy, William Lindeke, Wendy Underwood, *John Reich, Trevor Oliver, Betsy Reveal (chair), Adrian Perryman, Cedrick Baker
Former Planning Commissioner(s) have an * (Asterisk) in front of their name.  
Annual Reports
Meetings
Planning Commission meetings are held at 8:30 a.m. every other Friday in the City Hall basement, rooms 40.
Date
Agenda
Action Minutes
Approved Minutes & Public Hearing Comments
Packets
January 10, 2020
MEETING HAS BEEN CANCELED
 
 
 
January 24, 2020
Agenda 01/24/20
Action Minutes 01/24/20

Minutes 01/24/20

 

01/24/20
Zoning Information
WSide Community Plan-Equitable Development Scorecard
160 South Wabasha Street-Commercial Dev. District
974-7th Street West-Commercial Dev. District
1 Leech Street So.-Expand Commercial Dev. District
Religious Accessory Uses Zoning Study
 
February 7, 2020
 
 
 
 
February 21, 2020
 
 
 

 

March 6, 2020
 
 

 

 
March 20, 2020
 
 
 
 
April 3, 2020
 
 
 

 

April 17, 2020
 
 

 

 
May 1, 2020
 
 
 
 
May 15, 2020
 
 
 
 
May 29, 2020
 
 

 

 

 
June 12, 2020
 
 

 

 
June 26, 2020
 
 

 

 
July 10, 2020
 
 

 

 
July 24, 2020
 
 
 
 
August 7, 2020
 
 
 
 
August 21, 2020
 
 
 

 

September 4, 2020
 
 
 
 
September 18, 2020
 
 
 
 
October 2, 2020
 
 
 
 
October 16, 2020
 
 
 
 
October 30, 2020
 
 
 
 
November 13, 2020
 
 
 
 
December 4, 2020
 
 
 
 
December 18, 2020
 
 
 
 
 
 
 
 
 
2019 Planning Commission Meetings
2018 Planning Commission Meetings
2017 Planning Commission Meetings
2016 Planning Commission Meetings
2015 Planning Commission Meetings