Citywide Drop-Off Events
The city partners with local district councils to organize annual community drop-off events for residents to properly dispose of large refuse items, recyclable materials not collected in the curbside program and share usable goods with others. 
Volunteers are always needed! Volunteers receive snacks, complimentary lunch, and a voucher to dispose of one load for free. Call the organizing district council to participate!
2019 Events Summary     2019 Drop off Event Mailer
---
Dates and Locations
The annual Citywide Drop-Off events, originally scheduled for June 6 and 20, have been canceled. Saint Paul continues to work with district councils to plan and prepare for the September Citywide Drop-Off Events. Check back soon for informatio

n and updates.
2020 Tentative Dates and Locations:
September 12, 2020 - Harding High School, 1540 E. 6th St. (enter off of 3rd St.)
September 26, 2020 - Shepard Rd. 
Reminder: Saint Paul residents living in 1-4 unit properties can take advantage of the Bulky Item pick up program. Visit the City page on Bulky Item Disposal Collection.
For more information regarding disposal of items you cannot place in your recycling cart, follow the links below.
---
Map of Events
C. Harding High School, 1540 E. 6th St. (enter off of 3rd St.)
D. Shepard Rd.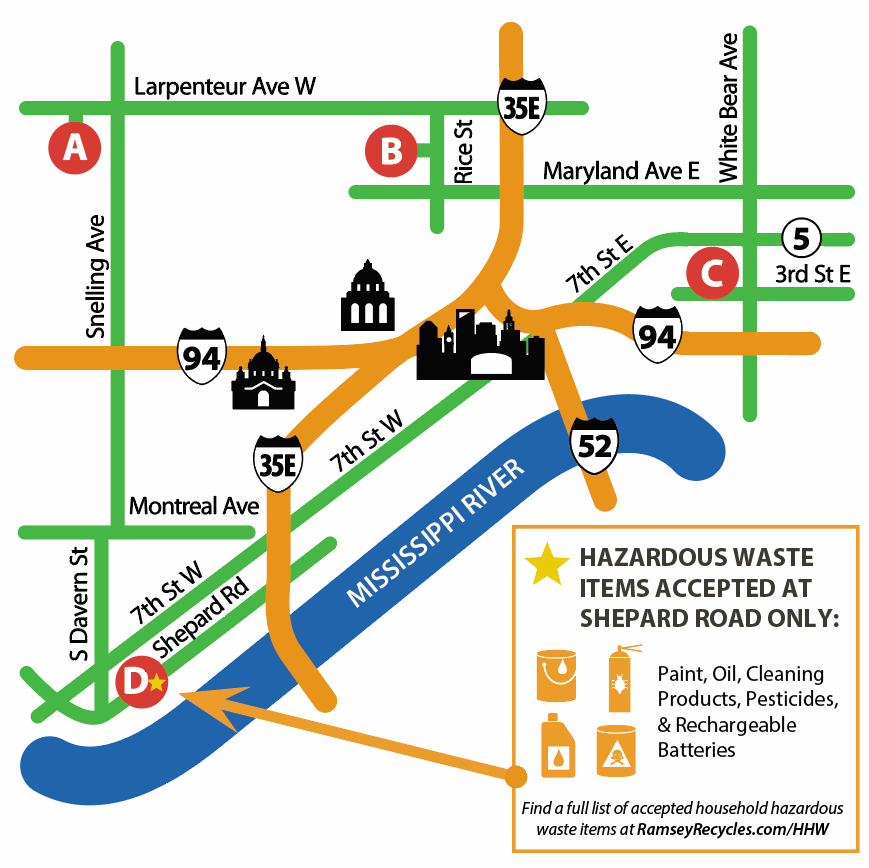 Updated: May 7, 2020