Recycling Information
On This Page: 
Residential Recycling Program
Accepted Materials
    Recycling Clothes and Linens
    Collection Days
Additional Information for Apartment Buildings
Business Recycling
Subscribe to receive email updates about reducing, recycling and composting
---
Residential Recycling Program
The City of Saint Paul partners with Eureka Recycling to provide weekly recycling collection. For more information about collection location or to report a missed pick up, contact Eureka Recycling at (651) 222-7678 or info@eurekarecycling.org 
Starting the week of January 16, 2017, Saint Paul began collecting recycling from wheeled, lidded carts. The recycling carts used in the new automated collection system will provide more space for recyclable materials and help reduce litter by keeping items in the cart. 
How to Use Your Wheeled Cart for Recycling:
Beginning the week of January 16, 2017, start setting out your recyclables in your new recycling cart for collection. We will no longer accept recyclables in blue curbside bins, other containers, or paper bags outside of the cart. 
Set out your recycling cart by 7:00 a.m. along the edge of the alley or curb with arrows on the top lid facing out. 
Make sure snow is cleared away from the recycling cart. Do not place in or on a snow bank, or in standing water (to prevent your cart from freezing to the ground in the winter). 
Do not place the cart on or behind any retaining wall, inside a fence or behind a car.
Place your recycling cart at least two feet away from objects such as your garage, trash cart, trees, fences, etc.
All material must fit loosely inside your cart with the lid closed. Do not place extra cardboard next to your cart.
Remember to remove your cart from the curb after collection. 
Watch Eureka's new automated collection truck at work! 
---
Accepted Materials 
Saint Paul has a single-sort recycling system, which means residents can put all recyclable materials into one cart. 
Watch for your 2017 Annual Recycling Guide delivered to your mailbox soon!
The following items are accepted for recycling: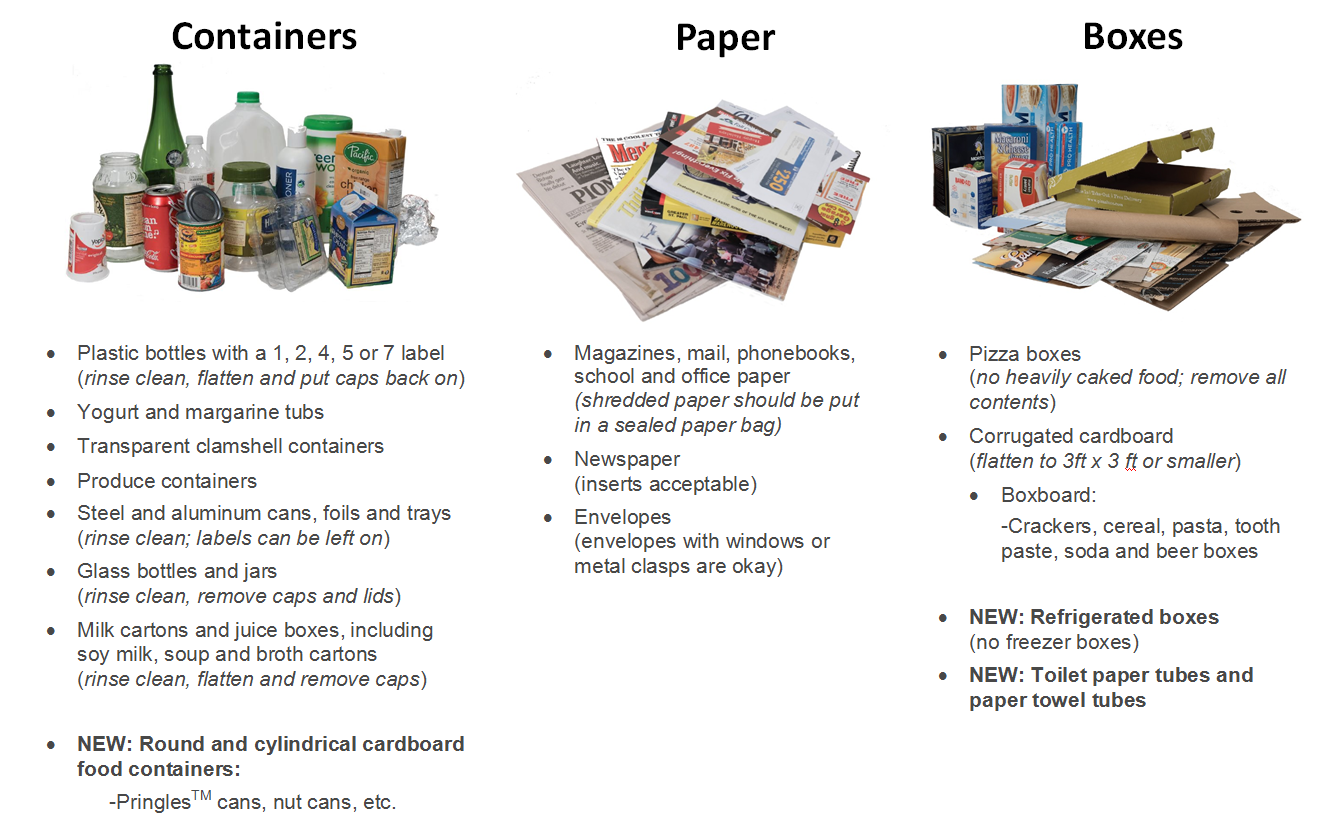 NOT Accepted: 

No Styrofoam, black plastic, or containers larger than 3 gallons. 
---
Recycling Clothes and Linens 
Clothes and linens are accepted in the Saint Paul residential recycling program. Items accepted include:
Linens (towels, sheets, blankets, curtains, tablecloths)
Clothes and miscellaneous accessories (examples: belts, coats, hats, gloves, shoes, and boots)
Clean fabric scraps and rags
No wet or dirty clothes
Instructions for Recycling Clothes and Linens:
Place items in a sturdy plastic  bag (must be 30-gallon size or smaller).
Fasten the bag tightly so items will not get wet or fall out.
Clearly mark the bag "CLOTHES & LINENS" so the drivers can see the bag is for recycling, not garbage.
Place your bag next to your cart by 7 a.m. on your recycling collection day.
Do not put any other recycling in plastic bags. 
---
Collection Days:
New recycling collection days took effect on January 16, 2017. View this map to find your new collection day.
Holiday Collection
Your collection day will be delayed one day if it fall on or after these observed holidays:
Memorial Day
4th of July
Labor Day
Thanksgiving
Christmas Day
New Year's Day
Missed Collection
If you miss your collection date or your materials were not picked up, contact Eureka Recycling at 651-222-7678. Hold your materials and set out the next week or drop off your materials at the City of Saint Paul's Recycling Drop-Off Center.
Saint Paul requires recycling service be provided at all residential properties. The City provides for two different types of service:
Small Apartment Buildings (5-11 Units):
Small apartment buildings that have 5-11 units will share two large (95 gallon) recycling carts. Similar to your garbage collection, the recycling cart will either stay in the alley or will go out to the curb on your recycling day. 
If your building does not have an alley, be sure that the person responsible for setting your carts at the curb knows your new recycling collection day. 
Large Apartment Buildings (12 or more Units):
Large apartment buildings that have 12 units or more will continue recycling in the same location as designated by their property manager. If your building does not currently offer recycling, contact Eureka Recycling at 651-222-7678 to set up service. 
Learn when your recycling is picked up by viewing this Recycling Collection Day Map.
---
Business Recycling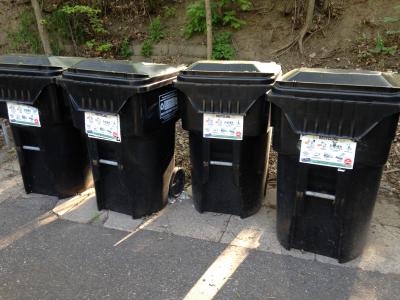 Businesses are required to recycle materials. To set up recycling services at your business, contact your refuse hauler or Eureka Recycling. Small businesses may take materials to Saint Paul's Recycling Drop-Off Center at no charge.
Recycling Technical Assistance is Available Through:
BizRecycling: LessTrash.com

Free resources and assistance to Ramsey and Washington County schools, restaurants, healthcare facilities, local businesses that want to learn more about recycling opportunities for paper, bottles, cans, food and organic waste.

Minnesota Waste Wise Free Technical Assistance (a program of the Minnesota Chamber of Commerce)
Minnesota Pollution Control Agency's Small Business Environmental Assistance Program