Twin Cities Electric Vehicle Mobility Network
Jump to a section on this page:
        
| | |
| --- | --- |
| Watch Minneapolis Online Community Meeting Video (October 26, 2020)--forthcoming | Watch Saint Paul Online Community Meeting Video (October 28, 2020)--forthcoming |
The Twin Cities Electric Vehicle Mobility Network is a project being developed by the City of Saint Paul, City of Minneapolis, HOURCAR, and Xcel Energy to create a network of electric vehicle charging hubs throughout the Twin Cities and make electric vehicles publicly available through a car-sharing service.
Electric Vehicle Charging Hubs

:  The charging hubs will be located on public roadways throughout Saint Paul and Minneapolis and operated by the cities. Each charging hub will be available for users to plug in the shared electric vehicles, as well as for members of the public to charge privately-owned electric vehicles.

Car-Sharing Service

:  HOURCAR, a local car-sharing nonprofit, will operate the new car-sharing service. For the first time in the Twin Cities, this car-sharing service will use a one-way, semi free-floating model. That means that you can pick up car, drive where you need to go, and park the car on the street anywhere within the service area. If the vehicle is below a certain amount of charge, or it's nearing overnight hours, you'll be encouraged to return it to one of the charging hubs.
Taking public transit, biking, and walking are still the most sustainable ways to get around, but some trips are too long or inconvenient to access without a car. This car-sharing service offers a new option to make a sustainable transportation choice, complementing public transit and the Twin Cities' network of biking and walking paths.
The service also offers its members reliable car access without the cost of car ownership. You can use car-share for trips whenever you need a car, or have it be a back-up option for when other transportation methods aren't as convenient or accessible. We are still working out the exact cost of using the vehicles, but you will be able to pay by the minute for the time you drove. You won't need to pay for parking, insurance, or gas for the trip.
The network will launch in 2021. Stay tuned for updates!
Give us your input on the project by taking this survey!
**Deadline for completing survey is November 13, 2020.**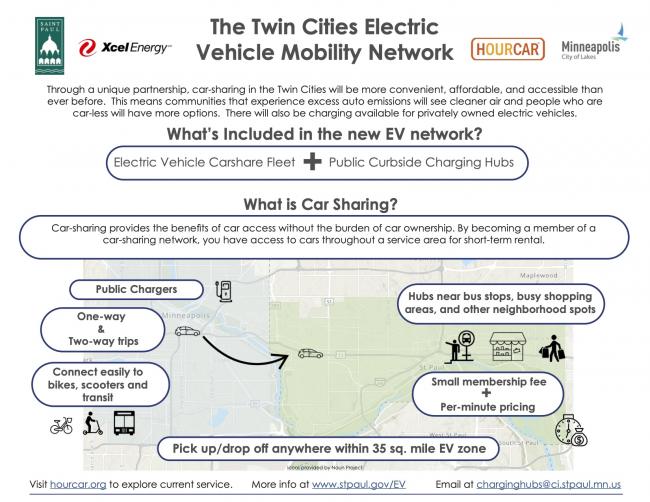 Car-Sharing Overview
Similar to renting a car, using a car-sharing service lets you access a vehicle without having to own one. You share the fleet of cars with your community, so each time you use the service you will likely be using a different car. Unlike with traditional car rentals, if you use the Twin Cities Electric Vehicle Network, you will be able to pick up one of many cars parked within the service area any time of day or night. The cars will be available at curbside locations around the city, some plugged in at charging hubs and some just parked on the street by others who are using the service too.
Car-sharing makes car access a community resource, helping people save money, reducing air pollution, and lowering traffic congestion and parking demand in the area. For every car-sharing vehicle available in a community, the people of that community purchase 8 to 11 fewer cars than they did before. This lowers local air pollution and greenhouse gas emissions, protecting public health and helping slow climate change.
You can learn more about HOURCAR's current services here
We are still working out the details, but we wanted to give you a basic idea of how this whole thing will work. We are in the process of gathering community input to help us develop the car-sharing service, so stay tuned for updates. 
The Car-Sharing Service
If you want to use these car-share vehicles when they are available in 2021, you will first need to apply for an HOURCAR membership to verify that you have a driver's license, you are over 18 years old, and a few other details. You can visit HOURCAR's Become a Member page to see how you would apply for membership now, although this process may change.
Charging the Vehicles:  The electric cars will need to be charged periodically at one of the new charging hubs throughout the cities, but you don't have to be the one plugging them in. When you finish your trip, you can look at a map to see which charging hubs near you have spots available. Most of the time, you'll be able to park the car on the street if that's more convenient. However, you may be asked to park the car at a charging hub in some cases when the car is low on charge. We are exploring ways we could discount your trip if you choose to park at a charging hub. 
The Service Area:  The service area is the region of the Twin Cities in which the cars will circulate. You will be able to look at a map of the service area to find a car. Then, when you finish driving, you can park the car in any legal street-side parking space in the service area or at any of the charging hubs where spots are available. When necessary, HOURCAR will move vehicles to make sure they are charged up well-distributed throughout the service area. 
The Charging Hubs
As part of this project, there will be electric vehicle charging hubs built throughout the Twin Cities. At each hub, there will be at least one charger available for public use as well as chargers reserved for HOURCAR's car-sharing vehicles. These hubs will substantially grow the existing charging network. One of the goals of creating this network is to make it easier for people to purchase to electric vehicles knowing that they can easily charge them throughout the cities. The cost of EVs is dropping fast. As soon as 2024, many EVs will be less expensive than gas-powered cars of a similar model. When prices fall, we expect higher demand for public charging, and this network will help meet that demand. 
Click here to learn more about all electric vehicle chargers in Saint Paul
How We Choose Charging Hub Locations
We know from other communities that that car-sharing is most successful in areas with a high density of residents and good transit service. We also know that car-sharing and good transit service has not always been accessible in an equitable way. Our goal is to expand access in Saint Paul and Minneapolis, placing them in some neighborhoods that have never had car-sharing before so that more people can access this resource.
Within each neighborhood in the service area, we're working to make the hubs conveniently and centrally located. We're taking into account a host of factors in placing these hubs proximity to affordable housing, multi-family housing units, local businesses, schools, libraries, recreation centers, while also locating them close to public transit networks and bike-friendly streets. In Minneapolis, siting is being coordinated with their mobility hubs pilot program. There are many logistic factors as well, including where there is space available and other city planning activities. Finally, we're considering hyper-local information such as unmarked loading zones and other local curbside activities that we would find alternative solutions for as part of this project. See below for general locations of the 35 charging hubs in each City; as the locations get finalized, a new map will be available and adjacent tenants/property owners will be directly notified.
| | |
| --- | --- |
| Saint Paul map of general charging hub locations--subject to change | Minneapolis map of general charging hub locations--subject to change |
| | |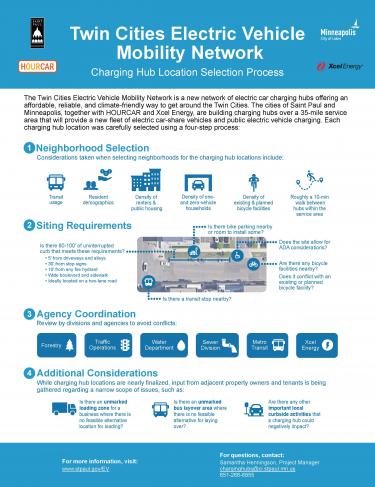 Gathering and Responding to Community Input
Within neighborhoods in the service area where car-sharing is a new service, we are partnering with local community organizations to help us do community outreach and inform people about the new charging hub network. Through this outreach, we are gathering input about the barriers that people may have to accessing car-share, as well as how pricing can be structured to minimize those barriers to access. In the fall of 2019 and spring of 2020, we also held focus groups supported by resources through the American Cities Climate Challenge as part of a project prototyping process. We began to hear from a diverse group of residents about how they would use (or not use) this new car-sharing service, helping us design the service with a goal of making it as beneficial as possible to our local community.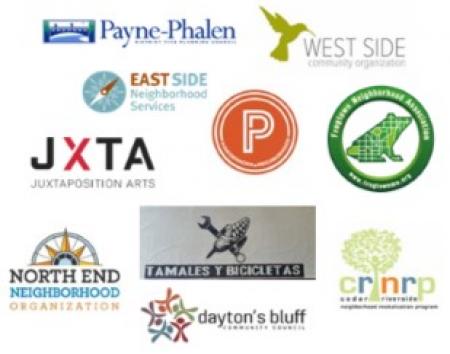 Prototyping- What is it and why was it done?
If you would like to provide your input on the project, participate in upcoming virtual community meetings, or learn more about the project, stay tuned for an online survey and email list coming soon on this site.
Give us your input on the project by taking this survey!
Sign up for project updates here.
Our Climate Crisis
Saint Paul's transportation sector accounts for 30% of all emissions in the city, and we use cars for most of our trips. This car-share network will help reduce the number of cars on the road and make more cars that are on the road all-electric. Driving an electric car instead of a gasoline car in Minnesota reduces CO2 emissions by 62%, so more electric cars on the road reduces our transportation sector's impact on climate change. Services like this one can make it more affordable for people to reduce their carbon footprints, empowering people to live more climate-friendly lives. Saint Paul is working to do its part in meeting Our Climate Crisis with the urgency it demands, while also investing in long-term sustainable transit planning. Click here to learn more about Saint Paul's Climate Action Planning.
What is a charging hub?
A charging hub is where you can expect to find a car-sharing vehicle that is part of the Twin Cities Electric Vehicle Mobility Network. Each hub will have spaces reserved for 2 HOURCAR carshare vehicles, as well as 1 to 2 spaces available for public charging of privately-owned vehicles. There will be hubs in a 35 square mile service area in Saint Paul and Minneapolis.
When will the charging hubs be operational?
We are aiming to have the charging hubs operational in 2021, with the possibility of a select few charging hubs offering public charging by the end of 2020.
What is HOURCAR's service area?
HOURCAR's current service allows you to drive anywhere on a trip, and you pay for the duration of the trip. You pick up from and return a vehicle to the same location among many options in Saint Paul and Minneapolis. With the new service, you will still be able to drive anywhere, but you can return the vehicle to the same place you picked it up, or at any charging hub or public on-street parking spot within the service area.
Can I sign up to use HOURCAR now?
Yes! HOURCAR has a fleet of over 60 vehicles available through their current car-share service. Click here to become an HOURCAR member right now.
What are the types of electric chargers at these charging hubs?
The service will have what are called "Level 2" chargers, which provide about 10 to 20 miles of range for every hour you charge the vehicle. They're great for when you can park the car for a few hours to let it charge. Visit Drive Electric Minnesota for more information on charging terminology, and to see how charging differs between car models.
Will the electric carshare vehicles be moved in accordance with the 48-hour on-street parking rules and during snow emergencies?
Yes. HOURCAR will be responsible for moving the vehicles.
Who will be responsible for maintenance, snow clearance at the charging hubs?
The cities will be responsible.
How can I get more information about this project?
Stay tuned for more information on this site about how you can sign up for our email list. If you sign up for our email list, you'll get up-to-date information on the project and learn about upcoming community engagement events.
HOURCAR
HOURCAR is a locally based non-profit that introduced car-share to the Twin Cities in 2005. They currently have over 60 hubs throughout Minneapolis and Saint Paul and 8 different car models to choose from -- including an electric plug-in Prius and pick-up trucks. Although most cars are used for short-term rental, some can be checked out for a weekend getaway. HOURCAR offers a variety of plans for individuals and businesses.
City of Minneapolis
The City of Minneapolis is working with the City of Saint Paul to help design this service and host charging hubs throughout our two cities.
East Metro Strong
East Metro Strong is a public-private partnership of businesses, cities, and counties working together to bring more and better transit investment to the East Metro and catalyze job growth and economic development opportunities.
Xcel Energy
Xcel Energy provides energy that powers millions of homes and businesses across 8 Western and Midwestern state. Xcel Energy's plan to build a carbon-free future lays out a bold vision for reducing its carbon footprint. By 2030, Xcel plans for its electricity fuel mix to be 80% carbon free. By 2050, the company plans for all its electricity generation to be 100% net carbon-free.
Funders
The Saint Paul Foundation, McKnight Foundation, 3M Gives, Otto Bremer Trust, Minneapolis Foundation (through its Climate Action & Racial Equity Fund), Metro CERT (Great Plains Institute), and Energy Foundation, have all generously supported this project, in addition to the Bloomberg Philanthropies American Cities Climate Challenge. 
This project is also a recipient of Federal Congestion Mitigation and Air Quality funding via the Metropolitan Council's Regional Solicitation process, as well as a recipient of a Department of Energy grant with the partnership of the Lung Association.
| | | | |
| --- | --- | --- | --- |
|   | Intro to the project | Location selection process | Prototyping process |
| English | | | |
| Hmoob | | | |
| Karen | Karen Project Intro | Karen Charging Hub Location Selection Process Infographic | Karen Prototyping Process |
| Oromo |   |   | |
| Soomaali | | | |
| Español | | | |
*Additional translations of materials and surveys are forthcoming.