Battle Creek Recreation Center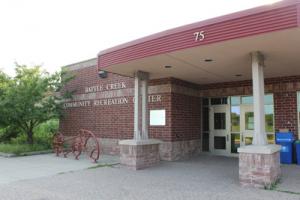 About Battle Creek Recreation Center
Battle Creek Recreation Center offers educational programs, after school activities, open gym, tot-times, family events, fitness center memberships, youth athletics, S'more Fun childcare, field rentals, rental space for parties, meetings, and events, and so much more. For more information on our current programming, view our seasonal activity brochure.
We want to hear from you!
If you have any questions, programming ideas, or suggestions please contact Bonnie Stokes at bonnie.stokes@ci.stpaul.mn.us or 651-248-0713.
Stay Connected
Subscribe to Battle Creek Recreation Center email updates.
Follow Battle Creek Recreation Center on Facebook. 
S'more Fun
Learn more about Battle Creek Recreation Center's S'more Fun childcare program. 
Amenities
Indoor Amenities:
Craft/Meeting Room (Small)
Fitness Center
Kitchen
Gym (Large)
Gym/Multipurpose Room (Small)
Meeting Room (can divide in two)
Warming Room
Outdoor Amenities:
Bike Rack
Baseball Field
(3) Basketball Half-Courts
Bocce Ball Court
Football Field
Hockey Rink
Horseshoe Pit
(2) Playgrounds
Skating Rink (General)
Sledding Hill (Steep Slope)
(2) Soccer Fields (Fall only)
(4) Softball Fields
(2) Tennis Courts
Rentals & Reservations
For field reservations or to reserve space at this facility, call (651) 501-6347.
Map
Activities
Browse and register for upcoming Battle Creek Recreation Center activities below.
MOBILE USERS: Click Here