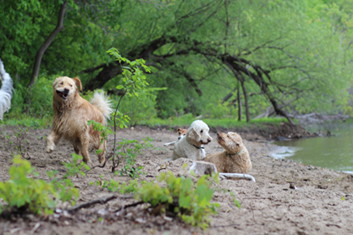 The Meeker Island Dog Park is located adjacent to Meeker Island Historic Lock and Dam site, the site of the first and northernmost lock and dam on the Mississippi. The site is located just west of the intersection of Eustis Street and N Mississippi River Blvd near the border of Saint Paul and Minneapolis. The park is located along the river at the bottom of the bluff and can be accessed from the entrance along the Mississippi River Blvd trail. It features a dog run and a dog beach. There is no fence surrounding the park, which is bordered by the Mississippi River and the steep river bluffs.
Please note, Meeker Island Dog Park may close in the event of high waters on the Mississippi River. Please see the Closures and Special Notices page for updates.
Amenities
Benches, Off-Leash Dog Park, and Hiking Trail
Dog Park Rules
Keep your dog in sight and under voice control at all times.
Clean up and dispose of feces left by your dog. Owners must bring pet-waste bags. Bags are not provided on-site. 
Dogs must be licensed and vaccinated.
No aggressive dogs allowed. If your dog becomes unruly or plays rough, leash it and leave immediately.
Female dogs in heat and dogs under the age of four months are prohibited.
Use at your own risk. Owners are responsible and liable for the actions and behavior of their dogs at all times.
Users are limited to three dogs per visit.
It is recommended that children be supervised by a parent or guardian.
Keep your dog within the designated Off-Leash Dog Area boundaries.
All other city park rules apply.