City Council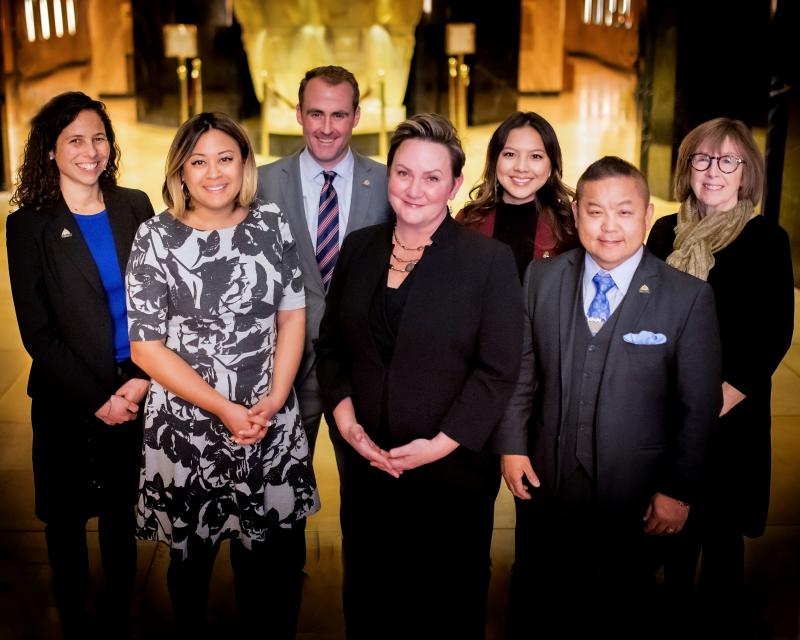 The current City Council, left to right:  Rebecca Noecker, Ward 2 | Mitra Jalali, Ward 4 | Chris Tolbert, Ward 3 |
Amy Brendmoen, Ward 5 and Council President | Nelsie Yang, Ward 6 | Dai Thao, Ward 1 | Jane L. Prince, Ward 7
---
About the Council
As the legislative body, the City Council is responsible for setting City policy through ordinances and resolutions. The Council also has sole responsibility for adopting the City's budget. The Council legislates by passing Ordinances which become City laws. The Council also makes performance auditing decisions and monitors the operation and performance of city agencies and holds regular oversight hearings on city departments to determine how programs are working and whether budgeted funds are being spent well. In its decision-making roles, the City Council actively involves public through its weekly public meetings. (NOTE: The meetings can be viewed live on cable TV, via webcast and on most mobile devices.  Videos of past council meetings and agendas going back to 2006 are available by clicking on the "Research" tab.)
In addition, the Council acts in a quasi-judicial role in hearing appeals regarding actions taken by a number of City agencies. In addition to their duties as Councilmembers, the City Council serves as the Board of Health and as the directors for the Public Library Agency and commissioners for the Housing and Redevelopment Authority (HRA). Representatives from the Council are members of the boards for the Saint Paul RiverCentre Convention and Visitors Authority, the Saint Paul Port Authority, the Joint Property Tax Advisory Board (JPTAC), and the Board of Water Commissioners.
Term of Office
Councilmembers are elected to a 4-year term. The current term runs through the end of 2023.
---
District Council and Ward Lookup     City Council Meetings
City Council Meeting
City Council Meetings During the COVID-19 Pandemic Emergency - How You Can Participate
In-person meetings, or meetings conducted under Minn. Stat. § 13D.02 of the City Council, are not practical or prudent because of the COVID-19 health pandemic emergency declared under Minn. Stat. Chapter 12 by the Minnesota Governor Tim Walz and Saint Paul Mayor Melvin Carter. In light of the COVID-19 health pandemic, members of the City Council will participate in City Council meetings by telephone or other electronic means.
View City Council Meetings Online
Public attendance at the City Council's regular meeting location is not feasible due to the COVID-19 health pandemic. Members of the public may view City Council meetings online at https://stpaul.legistar.com/Calendar.aspx or on local cable Channel 18.
Submit Comments for Public Hearing Electronically
The public may comment on public hearing items in writing or via voicemail. Any comments and materials submitted by 12:00 pm of the day before the meeting will be attached to the public record and available for review by the City Council. Comments may be submitted as follows:
Written public comment on public hearing items can be submitted to Contact-Council@ci.stpaul.mn.us, CouncilHearing@ci.stpaul.mn.us, or by voicemail at 651-266-6805. 
Tennessen Warning (Minnesota Statutes, § 13.04, subd. 2)  If you submit a comment to our office, the email address you provide is public data under the Minnesota Government Data Practices Act. You are not legally or otherwise required to provide your email, but we cannot contact you without it.
While the Council will make best efforts to decide all issues before them, the Council may delay decisions on certain matters where the members believe meeting in-person is necessary. Some public hearings will accept live testimony.  Please click here for more information.  All City Council public hearings will be held at 3:30 p.m. and there will be no separate 5:30 p.m. public hearings.
Reasonable Accommodation
Language Interpretation Request


Sign language and interpreters for languages other than English are available upon request at least 72 hours prior in order to participate in a City Council meeting. To request such an accommodation, please email Contact-Council@ci.stpaul.mn.us or call 651-266-8506 and specify the specific need.
 

Americans With Disabilities Act

Request




Special assistance is available for disabled persons addressing City Council.  Efforts will be made to provide adaptations or accommodations based on individual needs of qualified individuals with disabilities, provided that notification of at least 72 hours prior to the date of the meeting has been received by the City Council.  Please make your request by

emailing Contact-Council@ci.stpaul.mn.us or calling 651-266-8506 and specify the specific need.
Written Comments If you are unable to attend a meeting after making your request, you may provide comment on an agenda item by submitting your written comments to the City Council by mail or e-mail.  You may also leave us a voice mail and your comment will be transcribed.
---
Regular Meetings - Open to the Public
All meetings are held in the Council Chambers of the Saint Paul City Hall and Ramsey County Courthouse, 300 City Hall, 15 Kellogg Boulevard., West. The public is welcome to attend meetings and can access meeting information on the Council's Meeting Calendar such as looking at meeting videos or looking up agendas, minutes, and documents. Saint Paul Channel 18 also broadcasts the meetings live and then replays are normally available on Thursdays at 5:00 PM and Saturdays and Sundays at 2:00 PM.  Activity packs are available for children by request.
For information on how to make a public comment at a City Council meeting, please watch the video below:
Regular Meeting Schedules and Materials
Saint Paul City Services Community Guide
The Saint Paul Resident Guide provides information about frequently used city services. Please call 651-266-8989 for other information.