City Council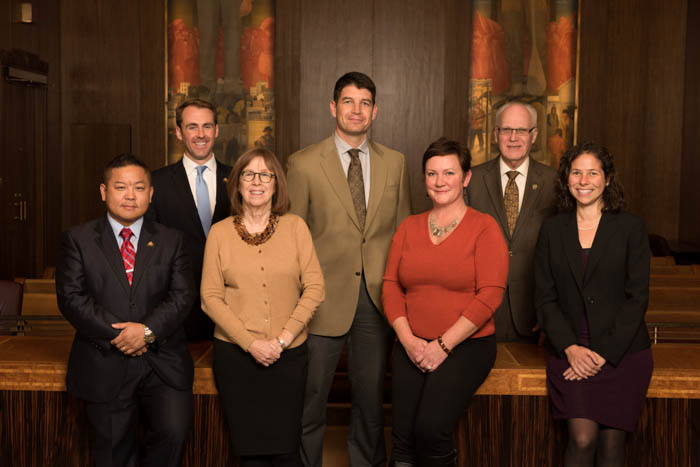 Dai Thao, Ward 1  | Chris Tolbert, Ward 3 | Jane L. Prince, Ward 7  | Russ Stark, Ward 4 and Council President   | Amy Brendmoen, Ward 5 |  Dan Bostrom, Ward 6 | Rebecca Noecker, Ward 2
About the Council
As the legislative body, the City Council is responsible for setting City policy through ordinances and resolutions. The Council also has sole responsibility for adopting the City's budget. The Council legislates by passing Ordinances which become City laws. The Council also makes performance auditing decisions and monitors the operation and performance of city agencies and holds regular oversight hearings on city departments to determine how programs are working and whether budgeted funds are being spent well. In its decision-making roles, the City Council actively involves public through its weekly public meetings. (NOTE: The meetings can be seen live on cable TV and via webcast. Videos of past council meetings and agendas are available, going back to 2006 by clicking on the "Research" tab.)
In addition, the Council acts in a quasi-judicial role in hearing appeals regarding actions taken by a number of City agencies. In addition to their duties as Councilmembers, the City Council serves as the Board of Health and as the directors for the Public Library Agency and commissioners for the Housing and Redevelopment Authority (HRA). Representatives from the Council are members of the boards for the Saint Paul RiverCentre Convention and Visitors Authority, the Saint Paul Port Authority, the Joint Property Tax Advisory Board (JPTAC), and the Board of Water Commissioners.
Term of Office
Councilmembers are elected to a 4-year term. The current term runs through the end of 2019.
Meetings - Open to the Public
All meetings are held in the Council Chambers, 300 City Hall, 15 Kellogg Blvd., West. The public is welcome to attend meetings. Access to meeting information is easy on the website. Offerings include meeting videos, agendas, minutes, and documents. Saint Paul Channel 18 also broadcasts the meetings live and then replays are normally on Thursdays at 5:00 PM and Saturdays and Sundays at 2:00 PM.  (NOTE:  Please consult the Saint Paul City Welcome Guide (pdf) for general information about the City Council and conduct during a Council meeting. Please call 651-266-8989 with questions you have that are not covered in the guide.)
Meeting Schedules and Materials
City Council 3:30 pm on Wednesdays (except the fifth Wednesday of the month)
Library Board 2:00 pm on first Wednesday of the month
Housing and Redevelopment Authority 2:00 pm on second and fourth Wednesdays of the month
Budget Review Committee  periodically meets on Wednesday mornings, August through December
Public Hearings
Public hearings are held on the first and third Wednesdays of the month. Hearings start at 5:30 pm. There is an opportunity for public comment at a hearing. Hearings are required for proposed ordinances, public improvements, property acquisitions, special assessments, utility charges, and adoption of the budgets and tax levies.  View the public hearing protocol video of what to expect at a public hearing.
Saint Paul City Services Community Guide
The Saint Paul City Services Community Guide (pdf) provides information about frequently used city services. Information not included in this guide can be obtained by calling 651-266-8989.