North Dale Recreation Center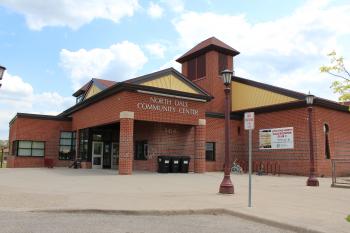 North Dale Recreation Center is closed at this time. Please see below for current programing options and alternatives, and visit stpaul.gov/parks-covid19 for more information.
North Dale Recreation Center offers educational programs, S'more Fun summer programing, family events, open gym, tot times, fitness center memberships, athletics, Rec Check afterschool programing,  ice skating, field rentals, rental space for parties, meetings, and events, and so much more.
Current Activities
Call (651) 558-2329 for more information.
Summer Space: Youth Outdoor Program
Summer Space is a free outdoor program for Saint Paul youth entering grades 1-6 that adheres to MN Department of Health guidance on COVID-19. The program includes arts & crafts, nature exploration, games, fitness, and other structured activities that allow for participants to connect with their peers while keeping their "space" to allow for social distancing. Registration is required. You must call the recreation center directly, Monday through Friday, 12pm-3pm to register. 
Summer Space Registration Information
Rec Reimagined: Digital and Alternative Programs
In order to help you stay connected, healthy, and active during this time, we have launched a new webpage where you can stay up-to-date with all of our digital and alternative programming options. Visit Rec Reimagined page often for the latest virtual programs, activity ideas, and other ways to live an active lifestyle and stay connected to nature in our parks, at home, and in your own back yard. We will continue to update this page as new programs and activities are introduced. 
Sports Registration
Amenities
Indoor Amenities:
Craft Room
Dance/Aerobics Room
Fitness Center
(2) Gyms (1 Medium, 1 Large)
Indoor Track
Kitchen
Multipurpose Room
Warming Room
Outdoor Amenities:
Baseball Field
(2) Hockey Rinks (1 Refrigerated)
Picnic Area
Playground
Skating Rink (General)
(3) Softball Fields
(2) Tennis Courts
Rentals & Reservations
Free Summer Meals
Free summer meals are provided Monday through Friday to youth 18 years of age and under and persons over 19 who participate in a public or nonprofit private school program for persons with disabilities. Visit the Free Summer Meals webpage for more information.
Rec Check
Rec Check is a free after-school program for youth in grades 1–5.
Summer Blast
Summer Blast is a free afternoon program for youth who will be entering grades 1-6 in the fall.
Summer Camps
View summer camps offered at North Dale Recreation Center and other locations.
No-School Day Programs
Special programming may be available during no-school days such as MEA, winter break, spring break or other times throughout the school year.
Stay Connected
North Dale Booster Club
Support North Dale Recreation Center by joining the North Dale Booster Club! The Booster Club advises recreation staff on activities, holds fundraisers, and volunteers at special events. Come share your talents with us.To join, contact Joe Byrnes.
Volunteer
Saint Paul Parks and Recreation offers many opportunities to make a difference in the lives of youth and adults who rely on recreation center programs and services, including helping out at community events, youth coaching, mentoring, and more. Learn more about our recreation center volunteer opportunities.