Project Details
Description
The City of St Paul will be replacing the Kellogg/3rd Street bridge to address the need for a more reliable connection to the City that will accommodate people walking, biking, taking transit, and driving.
Location
Kellogg/3rd Street bridge including Kellogg Boulevard from Broadway Street to Mounds Boulevard
Timeline
The city anticipates bidding the construction contract in early 2024. Construction is anticipated to start in 2024 and will take approximately 3 years to complete.
Final Art Designs
View the final art designs on the railings and pier columns, including the specific locations.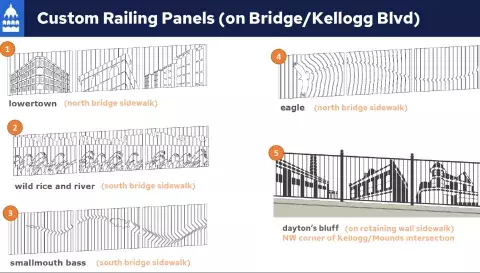 Kellogg/3rd Street Bridge Art Designs
Proposed Construction Detours
Wall Street is NOT being proposed as a vehicle detour route during construction.
Early in the project, Wall Street was identified as a potential vehicle detour route, to re-connect 7th Street to Kellogg Boulevard in the Lowertown area.
It was determined that detouring via Wall Street is problematic because of the traffic volume as well as the special events that already impact Wall Street.
At this time, Robert Street is being proposed as the vehicle detour route during construction.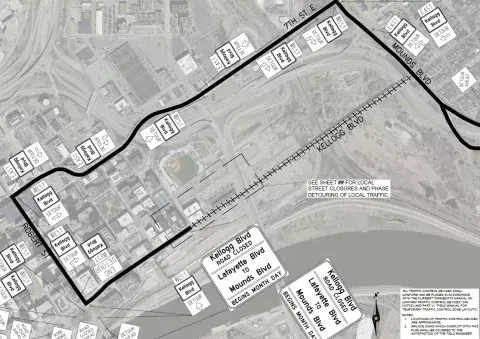 Frequently Asked Questions