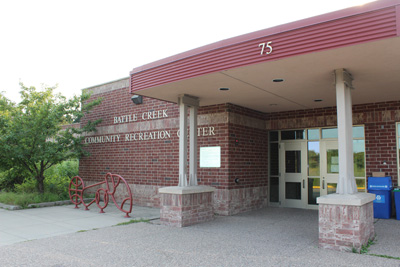 Battle Creek Recreation Center is closed at this time. Please see below for current programing options and alternatives, and visit stpaul.gov/parks-covid19 for more information.
Battle Creek Recreation Center offers educational programs, after school activities, open gym, tot-times, family events, fitness center memberships, seasonal ice skating, athletics, S'more Fun childcare, field rentals, rental space for parties, meetings, and events, and so much more.
Current Activities
Call (651) 501-6347 for more information. 
S'more Fun: In-person all-day program
S'more Fun is an all-day program for youth in grades K–5 provided at various recreation center sites. S'more Fun will run weekdays from 7 a.m. - 6 p.m. on days when Saint Paul Public Schools have classes in session. Advanced registration is required. Visit the S'more Fun webpage for more details, including registration information and COVID-19 safety procedures.
Learn more about these other school-day youth recreation programs.
Rec Check  Recreation for Preschoolers 
Rec Reimagined: Digital and Alternative Programs
In order to help you stay connected, healthy, and active during this time, we have launched a new webpage where you can stay up-to-date with all of our digital and alternative programming options. Visit Rec Reimagined page often for the latest virtual programs, activity ideas, and other ways to live an active lifestyle and stay connected to nature in our parks, at home, and in your own back yard. We will continue to update this page as new programs and activities are introduced. 
Sports Registration
Amenities
Indoor Amenities:
Craft/Meeting Room (Small)
Fitness Center
Kitchen
Gym (Large)
Gym/Multipurpose Room (Small)
Meeting Room (can divide in two)
Warming Room
Outdoor Amenities:
Bike Rack
Baseball Field
(3) Basketball Half-Courts
Bocce Ball Court
Football Field
Hockey Rink
Horseshoe Pit
(2) Playgrounds
Skating Rink (General)
Sledding Hill (Steep Slope)
(2) Soccer Fields (Fall only)
(4) Softball Fields
(2) Tennis Courts
Rentals & Reservations
For field reservations or to reserve space at this facility, call (651) 501-6347.
For terms and conditions, rental rates, and applications, see Recreation Center Rentals.
Cross Country Ski and Snowshoe Rentals
Cross country skis and boots are available to rent for $12/child or $15/adult at Battle Creek Recreation Center. Ski trails are maintained by Ramsey County. A Minnesota State Ski Pass is required to ski on Battle Creek Regional Park trails for skiers age 16 and above. *No rentals Jan. 31-Feb 2, 2020.
Snowshoes are available to rent for $5/pair. Snowshoeing is not permitted on groomed ski tracks. 
The last day for ski and snowshoe rentals will be Friday, February 28, 2020. 
No-School Day Programs
Special programming may be available during no-school days such as MEA, winter break, spring break or other times throughout the school year.
Free Meals Program
Free meals are provided to youth 18 years of age and under and persons over 19 who participate in a public or nonprofit private school program for persons with disabilities. Visit the Free Meals Progam webpage for more information.
Summer Blast
Summer Blast is a free afternoon program for youth who will be entering grades 1-6 in the fall.
Rec Check
Rec Check is a free after-school program for youth in grades 1–5.
Stay Connected
Subscribe to Battle Creek Recreation Center email updates.
Follow Battle Creek Recreation Center on Facebook. 
Volunteer
Saint Paul Parks and Recreation offers many opportunities to make a difference in the lives of youth and adults who rely on recreation center programs and services, including helping out at community events, youth coaching, mentoring, and more. Learn more about our recreation center volunteer opportunities.