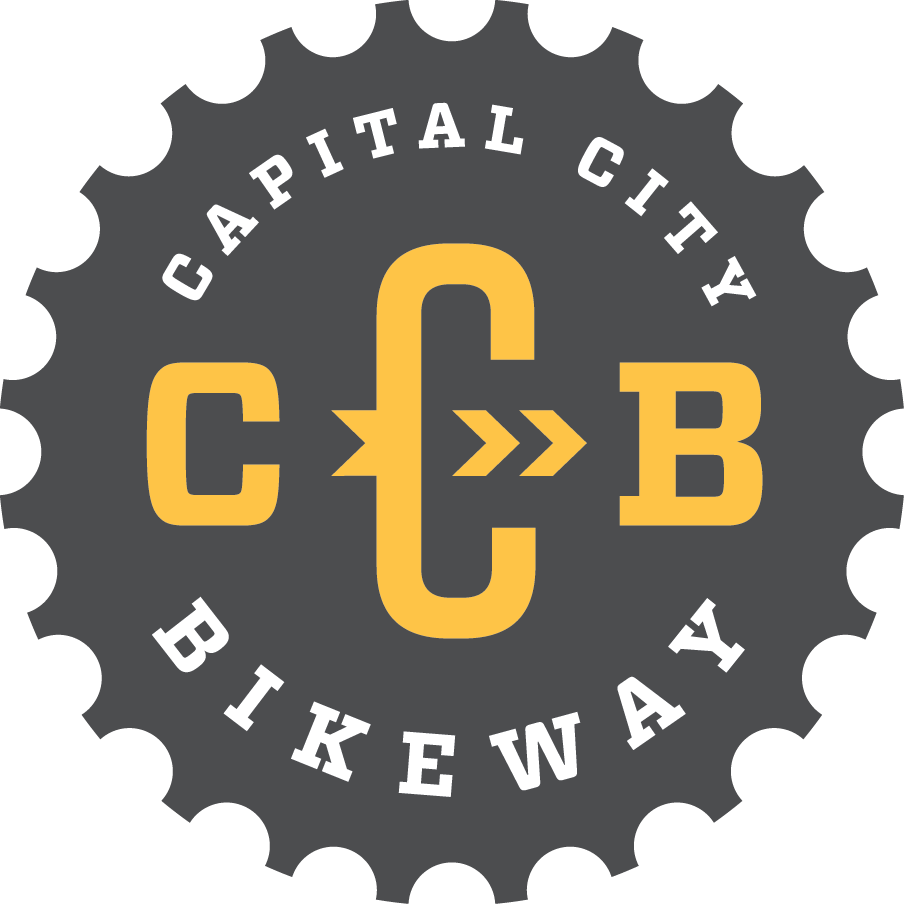 The Capital City Bikeway is a planned network of bicycle facilities throughout downtown Saint Paul. The bikeway network will connect to existing trails, effectively placing a majority of downtown within a few blocks of a bike and pedestrian trail. The first segment of the Capital City Bikeway was completed along Jackson Street from University Avenue to Kellogg Boulevard in 2017.
Current work being done on the Capital City Bikeway: Capital City Bikeway Interim Design Study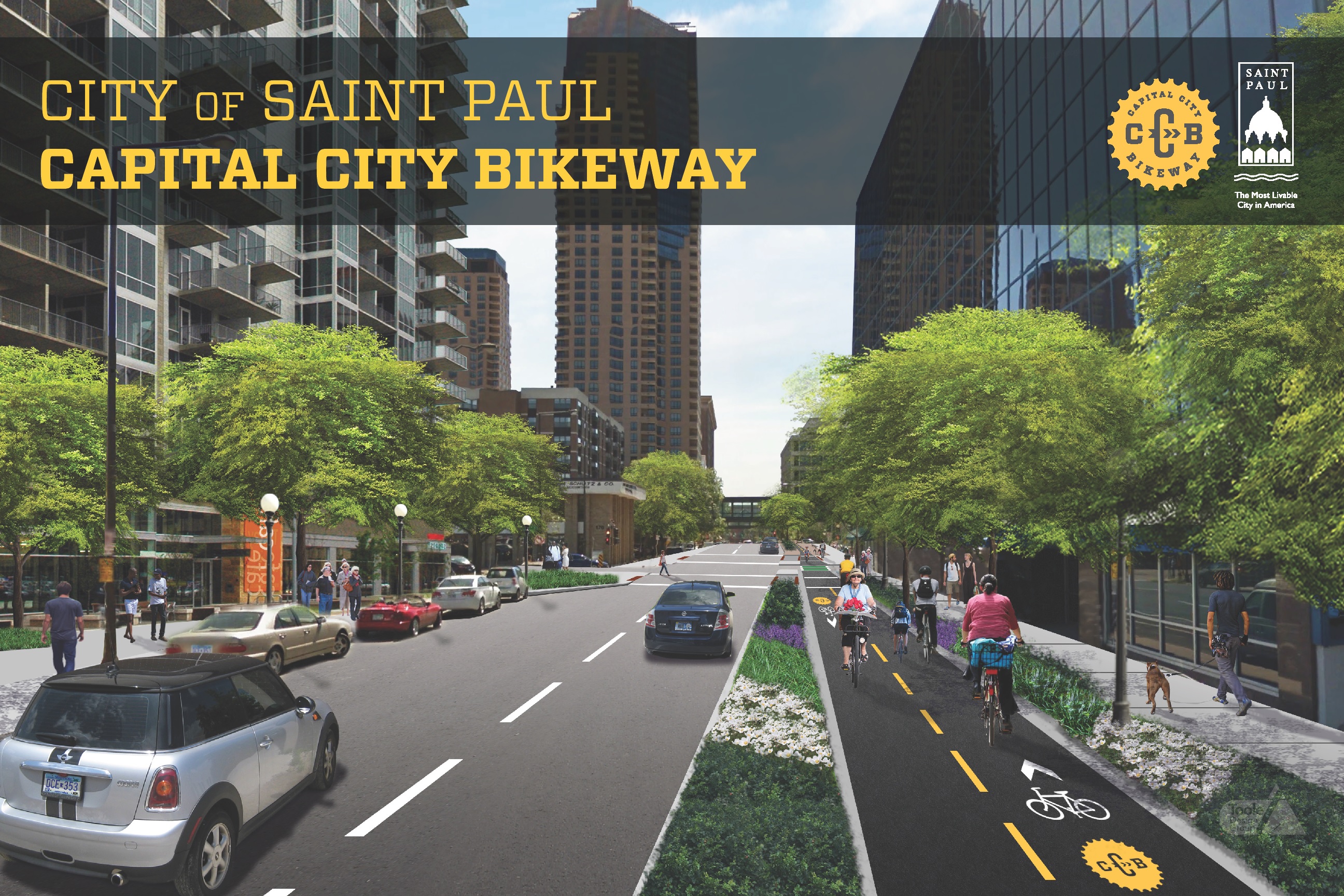 BIKEWAY FEATURES
• Two-way, off-street bike trail along portions of Jackson Street, Kellogg Boulevard, St. Peter Street or Wabasha Street, 9th Street, and 10th Street.
• Scenic landscaping separating the bikeway from streets and sidewalks.
• Sustainable pavement and porous asphalt, which will help collect storm water runoff and keep pathways dry, increasing the safety of bicyclists and pedestrians.
• Streetscape features including benches, street lights, directional signage, and public art.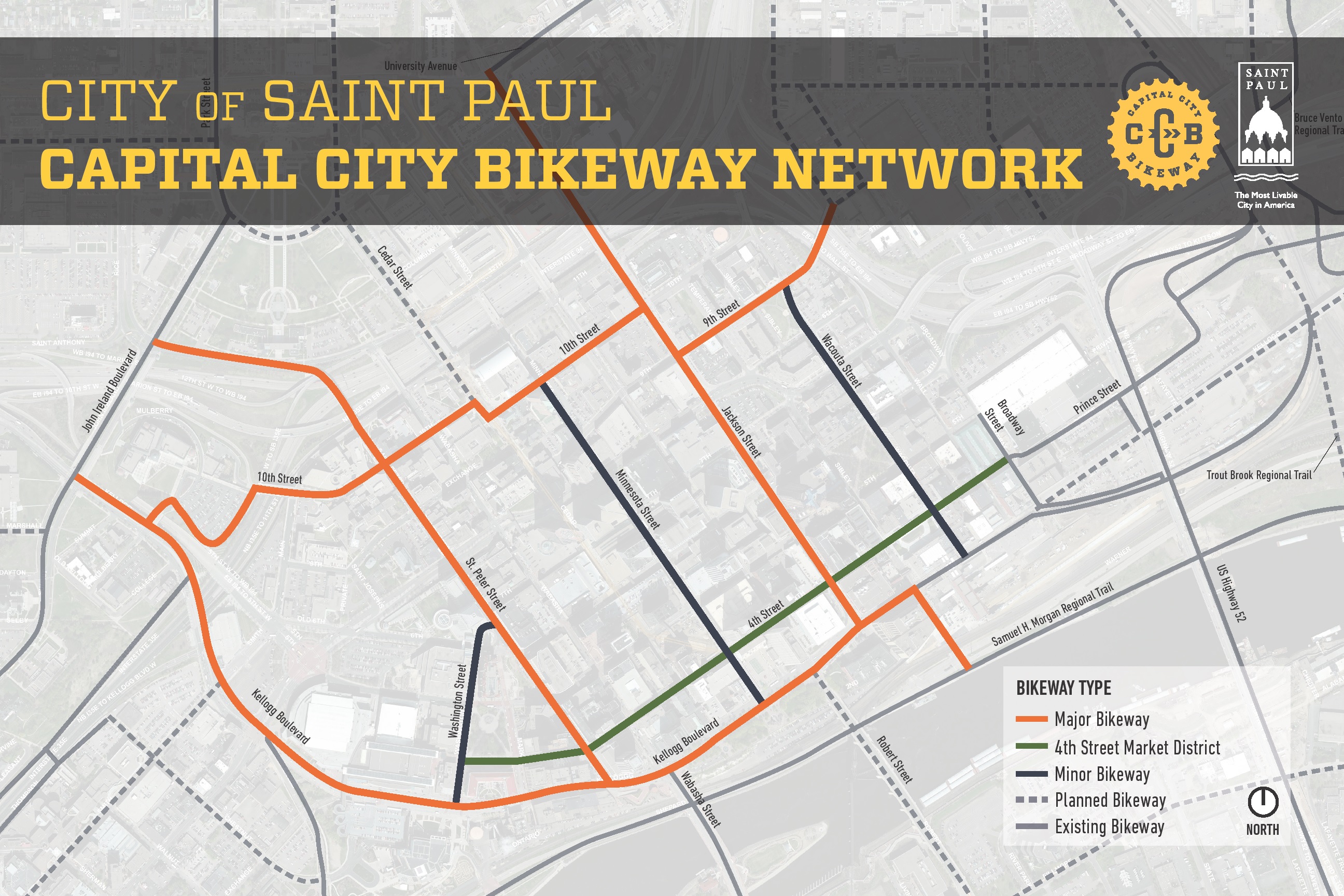 A COMPREHENSIVE PLAN
The Capital City Bikeway is part of the Saint Paul Bicycle Plan, a blueprint for doubling the number of bikeways in Saint Paul over the next several decades. The plan is designed to create outdoor vibrancy and enhance the economic vitality of Saint Paul, making it more accessible and attractive for people riding bikes, walking, running, driving, or using transit.
BENEFITS
The installation of bikeways, trails and sidewalks across the country has proven to bring economic benefits to cities, including increased retail sales and property values, and fewer vacancies. These facilities also provide a place to engage in regular physical activity which has numerous documented health benefits. Learn how bikeways enhance the vitality of cities.
MODERNIZING OLD STREETS
The Capital City Bikeway route covers some of downtown's oldest streets. This project will allow these streets to be reconstructed and modernized to create a better experience for pedestrians, bicyclists, and motorists.
DOCUMENTS
Capital City Bikeway Network Study and Design Guide
Appendix A - Discovery Workshop Summary
Appendix B - Design Workshop Summary
Appendix C - Design Standards
Appendix D - Historic Resources Summary Report
Appendix E - Conceptual Design Plans
Appendix F - Summary Report - 4th Street Market District