Garbage
Click for the steps to choose your cart size
Information for Residents with CURRENT Garbage Service          Information for Residents with NO Garbage Service
Saint Paul is transitioning to Citywide Residential Garbage Services October 2018

June 1, 2018 – Residential property owners will receive a special postcard by May 14 to select their garbage cart size/service level via special website: www.cartsize.net, phone number or return postcard no later than June 1. To select your cart, via the website or phone will require your unique Cart Selection ID and your address listed on the postcard. If the homeowner does not choose a cart size, we will provide the cart size your have now; if you currently don't have garbage service, we will choose a medium cart size/service level.
Early August 2018 – Collection Zone map will be published, and property owners will receive a letter notifying them of their designated hauler, confirmed cart size, garbage collection date and recycling collection date.
Mid-August – September 30, 2018 – New city garbage carts are delivered. Please continue using your current carts! As the new citywide garbage service begins, garbage haulers will collect the current carts.
Late September – Homeowners receive the first quarterly bill for garbage service (Oct-Dec 2018) from their new designated haulers.
October 1, 2018 is the current target date to start the new citywide garbage service.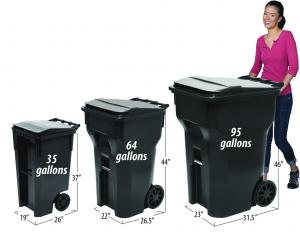 What do I need to do right now?
1. Property owners were mailed a postcard in May with a special cart selection ID number and instructions to select a cart size and service level by June 1, 2018. If you are a renter, please contact your landlord or property manager to discuss your garbage service needs.
2. Check out the different cart sizes and services levels (below). Learn more about additional service options, including yard waste, that will be available to all residents.
3. If you currently have garbage service, please note you will not need to cancel service with your existing hauler.
4. Visit our website regularly for further updates.
Property owners can choose from four different service levels to meet their household needs:
Cart Size

Gallons

Collection

Bulky Items

Rates* (monthly rates; statements are quarterly)

Small
35 - approx 2-3 kitchen-size bags
Every other week
2
$20.28/mo or $60.84/quarter
Small
35 

- approx 2-3 kitchen-size bags

Every week
2
$23.44/mo or $70.32/quarter
Medium
64 

- approx 4-5 kitchen-size bags

Every week
3
$32.03/mo or $96.09/quarter
Large
96 

- approx 5-7 kitchen-size bags

Every week
3
$34.15/mo or $102.45/quarter
*pricing includes all fees, and county and state taxes
An annual fee of $24.60 will be added to your Ramsey County property tax statement to help cover costs for carts, program administration, outreach and education efforts.
Check out additional garbage services and rates
Starting October 1, 2018, the City of Saint Paul will launch a new citywide coordinated garbage collection program to make our city CLEANer! All residents and neighborhoods will benefit from:
C - Consistent, quality, standard service options and uniform pricing.
L - Livability in the city will improve with efficient and equitable garbage services.
E - Environmental benefits such as reduced noise pollution and illegal dumping, as well as less wear on streets and alleys.
A - Access to quality garbage service for every household with expanded service, including bulky item and electronic waste collection.
N - Neighborhoods will be safer with reduced traffic levels on streets and alleys.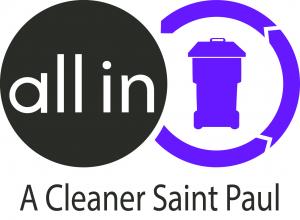 What is Citywide Garbage Service?
Citywide garbage service is a new coordinated garbage collection system where each street/alley has one designated residential garbage hauler, and prices and services are consistent across Saint Paul. This program, which will begin October 1, 2018, will also work hand-in-hand with the citywide recycling program to support Saint Paul's longer-term vision for reducing waste.
Who is required to participate in the citywide garbage program? 
The new City ordinance will require all residential property owners of 1-4 unit households, including rentals and townhomes, to participate in the citywide garbage services.
Who is providing the garbage services?
The City of Saint Paul is working closely with the group of licensed garbage haulers who are currently serving local residents to ensure a smooth transition to citywide garbage collection.
Why is Saint Paul transitioning its garbage program?
Most larger cities have coordinated collection programs because it is an efficient way to collect garbage for all residents. Standardizing residential garbage services has environmental and safety benefits that improve our neighborhoods, such as reduced traffic, pollution, illegal dumping, and wear and tear on streets and alleys.
When does the new citywide garbage program take effect?
Currently, Saint Paul residents must find their own hauler to have their garbage picked-up. Haulers don't necessarily work in specific areas, so several different haulers may collect from a single block on multiple days of the week.Until October 1, 2018, you will need to contact a licensed residential garbage hauler for service.
Can I opt-out or share garbage services with my neighbor?
There is no opt-out option. The new City ordinance will require all property owners, including 1-4 unit rental properties, to have their own service.  If your household does not generate much garbage, we offer a small cart with service every other week.
When will I know who my hauler is going to be?
In early August, collection zone maps with designated haulers and collection days will mailed to homeowners and also available online with an interactive map.
Have more questions? Check out our garbage FAQs
Learn more about the history, steps, and process transitioning to Saint Paul's citywide coordinated garbage collection services.