Garbage

Holiday Tree Disposal
Through the organized collection program, residents can dispose of one tree per residential property unit through January 15th annually. If you still have a tree you'd like to dispose of you can schedule a bulky item pick-up by calling your garbage hauler. Depending on your cart size, you can have 2 bulky items (small 35-gallon cart) or 3 bulky items (medium 64-gallon or large 96-gallon cart) collected each calendar year at no additional cost.
You can also bring your tree  to the one of the following Ramsey County yard waste collection site for free: 
---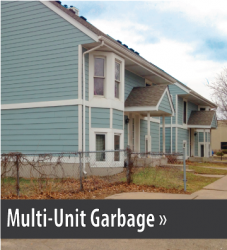 Learn more about the history, steps, and process transitioning to Saint Paul's citywide garbage service.
2020 Every Other Week Garbage Collection Schedule
Recycling and Garbage 2019 Annual Guide
Questions? Check out our Garbage FAQs