Garbage

Republic Services Q3 2020 (July – September) Bills to Residents
The City is aware that Republic Services sent out their Q3 2020 (July – September) invoice to customers later than provided in their Agreement with the City. Due to this, there will not be any late fees applied to any Q3, 2020, Republic invoices. If the Quarter 3, 2020 bill (July – September) remains unpaid, residents will still receive periodic notices of non-payments, but no late fees will be added. If the Quarter 3 2020 bill (July – September) remains unpaid at the end of the billing cycle (September 30, 2020), the outstanding amount will be turned over to the City for assessment. There will be no late fees on these assessments. The City is working with Republic Services to ensure that this does not happen again and apologize for any confusion and inconvenience this has caused. If you have questions on your bill, please contact Republic directly at 651-286-4590.
Normal Operations for Saint Paul's Residential Garbage and Recycling Services COVID-19
Protecting public health and safety is a top priority for the City of Saint Paul as we work with our haulers to minimize community spread of the coronavirus (COVID-19). Garbage and recycling services will continue as normal. Maintaining regular garbage and recycling collection is an essential city service, and we continue to work with Eureka Recycling and the St. Paul Haulers to monitor and minimize any potential impact to service.
---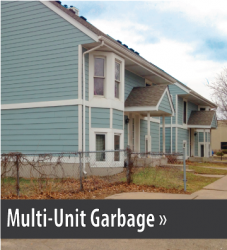 Learn more about the history, steps, and process transitioning to Saint Paul's citywide garbage service.
2020 Every Other Week Garbage Collection ScheduleRecycling and Garbage 2020 Annual GuideQuestions? Check out our Garbage FAQs