Garbage

The 4th of July holiday falls on a Saturday and will not impact garbage and recycling collection schedules. Garbage and recycling will be collected as usual.
Normal Operations for Saint Paul's Residential Garbage and Recycling Services COVID-19
Protecting public health and safety is a top priority for the City of Saint Paul as we work with our haulers to minimize community spread of the coronavirus (COVID-19). Garbage and recycling services will continue as normal. Maintaining regular garbage and recycling collection is an essential city service, and we continue to work with Eureka Recycling and the St. Paul Haulers to monitor and minimize any potential impact to service.
Please note residents may experience limited interruptions or delays in call-center customer service support as the recycling and garbage companies adjust to protect the health and safety of their employees, by moving their call center staff to working remotely. These customer service delays will be temporary. If you are unable to reach your hauler, please try again later in the week. If residents have immediate questions, call the City's garbage line at 651-266-6101, online, or by email garbage@stpaul.gov​​
---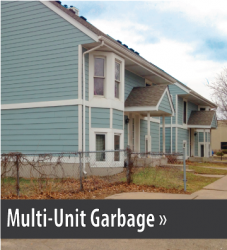 Learn more about the history, steps, and process transitioning to Saint Paul's citywide garbage service.
2020 Every Other Week Garbage Collection Schedule
Recycling and Garbage 2019 Annual Guide
Questions? Check out our Garbage FAQs