Garbage
Update on Citywide Garbage Service 8/22/19:
On August 22, 2019, the Minnesota Supreme Court ordered the City to place the Ordinance that created rules for garbage collection on the ballot for citywide vote.
What Saint Paul Residents Need to Know and Do
Garbage collection will continue uninterrupted in the City of Saint Paul.

Residents should not find a new hauler or cancel their garbage service.

Residents should continue to place their city garbage cart out on their scheduled collection day.

Residents will receive a quarterly garbage bill from their hauler (for service October 1-December 31, 2019) in early October.

Residents should pay their garbage bill to their hauler by the due date of October 25, 2019.

Residents will vote on Ordinance 18-39 on the November 5, 2019 general election ballot.
For more detailed information visit our Garbage Announcements page.
---

On October 1, 2018, the City launched citywide garbage service, a new coordinated garbage collection system where each street/alley has one designated residential garbage hauler and prices and services are consistent across Saint Paul.  With fewer trucks on our neighborhood streets, this program helps support Saint Paul's longer-term vision for a safer, cleaner, and more resilient community.
---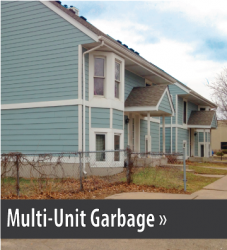 Learn more about the history, steps, and process transitioning to Saint Paul's citywide garbage service.
Recycling and Garbage 2019 Annual Guide
Questions? Check out our Garbage FAQs