Garbage
The City of Saint Paul is working with the Consortium of garbage haulers to continue providing high quality garbage collection. Garbage collection will continue as normal and your collection day will not change. The City will continue to update residents as more information becomes available. 
Update on Citywide Garbage Service 6/5/19
---
On October 1, 2018, the City launched citywide garbage service, a new coordinated garbage collection system where each street/alley has one designated residential garbage hauler and prices and services are consistent across Saint Paul.  With fewer trucks on our neighborhood streets, this program helps support Saint Paul's longer-term vision for a safer, cleaner, and more resilient community.
---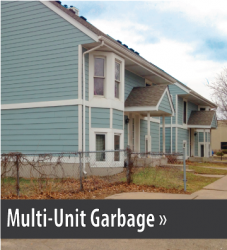 Learn more about the history, steps, and process transitioning to Saint Paul's citywide garbage service.
Recycling and Garbage 2019 Annual Guide
Questions? Check out our Garbage FAQs