Garbage
Click here for a PDF summary of information regarding the garbage referendum vote
Information about Saint Paul's Garbage Referendum Vote (November 5, 2019) on Ordinance 18-39:
Updated: 10/16/19
WHO: All Saint Paul residents who are eligible to vote in the 2019 general election.
WHAT: Saint Paul residents can vote on whether to keep Ordinance 18-39 in effect on the upcoming general election ballot. Ordinance 18-39 created the regulations and rates that apply to coordinated garbage collection for more than 73,000 1-4 unit residential properties in Saint Paul.
WHEN: The general election is Tuesday, November 5, 2019.
WHERE: To find your polling place, visit: https://pollfinder.sos.state.mn.us/. To vote before election day: https://www.ramseycounty.us/residents/elections-voting/voters/vote-election-day.
BALLOT LANGUAGE:
TITLE:
Referendum on whether Ordinance 18-39 should remain in effect.
QUESTION:
Should Ordinance 18-39, entitled "Residential Coordinated Collection," remain in effect for residential trash collection in St. Paul? Ordinance 18-39 creates new rules for the collection and disposal of trash and payment for trash service; and requires that certain residential dwellings have trash collected by a designated trash hauler. A "Yes" vote is a vote in favor of keeping Ordinance 18-39. A "No" vote is a vote to get rid of Ordinance 18-39. 
WHAT WILL  A "YES" VOTE DO?
There would be no changes to the current organized garbage collection program. 
The garbage haulers would continue to pick up garbage under the current contract.
The garbage haulers would continue to bill individual residents or property owners for the collection of garbage at their property. 
WHAT WILL A "NO" VOTE DO?
The designated haulers will continue to collect garbage under the existing contract.
The haulers will still collect garbage, but the financial obligation may be shifted from individual rate-payers to all property tax payers in Saint Paul.
The cost for garbage collection for 2020 is estimated at $27.1 million, which would require an additional 17.4% increase in the property tax levy if the City were to pay for garbage service.
To find out how this would impact your property taxes, use the property tax estimator:  https://www.stpaul.gov/departments/financial-services/city-saint-paul-property-tax-estimator.
The City will work with the garbage haulers to prevent double payments and ensure that billing and payment requirements are clear. The City will provide property owners with additional information regarding billing as it develops. 
---

On October 1, 2018, the City launched citywide garbage service, a new coordinated garbage collection system where each street/alley has one designated residential garbage hauler and prices and services are consistent across Saint Paul.  With fewer trucks on our neighborhood streets, this program helps support Saint Paul's longer-term vision for a safer, cleaner, and more resilient community.
---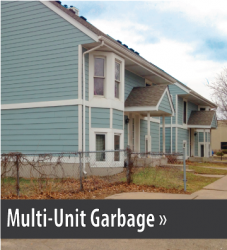 Learn more about the history, steps, and process transitioning to Saint Paul's citywide garbage service.
Recycling and Garbage 2019 Annual Guide
Questions? Check out our Garbage FAQs