Garbage

Holiday Tree Collection
You can have one live seasonal tree collected by your garbage hauler, at no additional cost, between January 2 and January 15 each year. If it meets the requirements below it does not count as a bulky item.
All trees must have decorations and stands removed.
No artificial trees. Flocked trees are acceptable.
Seasonal trees must be no larger than 6 feet in length and 20 pounds in weight.
Lay the tree next to the garbage cart (do not place it upright in the snow or lean it against your garbage or recycling cart). Make sure the tree is not obstructing your carts.
Limit 1 seasonal tree per household (or 1 tree per unit for multi-unit properties).
Tree cannot be in a bag of any kind.
Haulers will collect trees by January 15th, the collection may occur outside your normal pick-up day; please leave your tree out until the 15th. 
Additional seasonal trees, artificial trees, or trees larger than 6 feet in length can be collected as a bulky item. 
---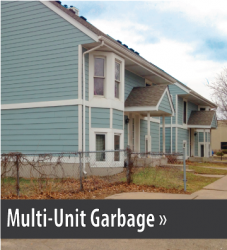 Learn more about the history, steps, and process transitioning to Saint Paul's citywide garbage service.
2020 Every Other Week Garbage Collection Schedule
Recycling and Garbage 2019 Annual Guide
Questions? Check out our Garbage FAQs