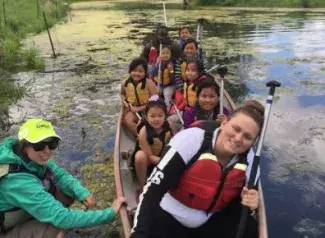 2022 Summer Camp and Activity Registration
Saint Paul Parks and Recreation offers summer camps and activities at parks and recreation centers throughout the city. Register online below or contact your local recreation center.
Summer Camps Summer Rec Check Adaptive Recreation Aquatics Browse All Summer Activities Recreation Center Map 
Browse camps and activities by location:
Select your favorite recreation center, then navigate to "current activities".
Arlington Hills Community Center
Battle Creek Recreation Center
Citywide Outdoor Recreation
Dayton's Bluff Recreation Center
Duluth and Case Recreation Center
Edgcumbe Recreation Center
El Rio Vista Recreation Center
Frogtown Community Center
Groveland Recreation Center
Hancock Recreation Center
Hayden Heights Recreation Center
Hazel Park Recreation Center
Highland Park Community Center
Jimmy Lee/Oxford Community Center
Langford Park Recreation Center
Linwood Recreation Center
Martin Luther King Recreation Center
McDonough Recreation Center
Merriam Park Recreation Center
North Dale Recreation Center
Northwest Como Recreation Center
Palace Community Center
Phalen Recreation Center
​Phalen Regional Park Beach
Rice Recreation Center
West Minnehaha Recreation Center
Wilder Recreation Center